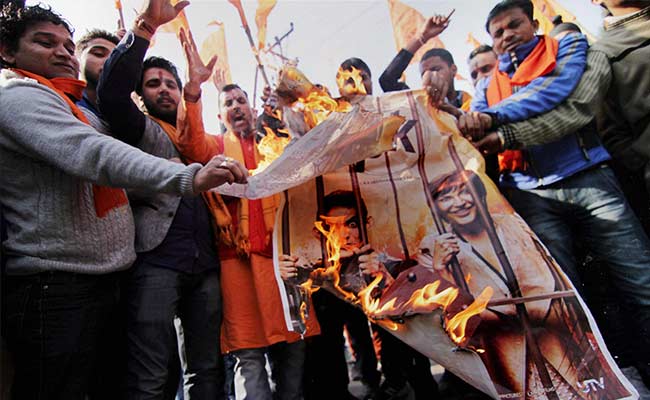 Mumbai:
A few theatres in Mumbai on Monday stopped shows of Aamir Khan starrer "PK" amid protests and threats by religious activists who allege that the movie insults Hindu gods.
The protests, mostly by fringe groups, have provoked sharp reactions on social media, with rival hashtags - #BoycottPK and #WeSupportPK - warring for dominance on Twitter.
A theatre owner in south Mumbai's Parel said he had no choice but to stop screening the film after being threatened by activists allegedly belonging to the Vishwa Hindu Parishad or VHP, an affiliate of the ruling BJP's ideological mentor Rashtriya Swayamsevak Sangh.
"We are soft targets. Around 40 people came to the theatre and said stop the screening or we will ransack your building," Punit Shah, the owner of Deepak Talkies, told NDTV.
A letter, purportedly by a VHP leader, has been circulated among theatre owners. It calls for criminal action against the makers of the film for "hurting Hindu sentiment."
There have been protests in other cities like Ahmedabad, Bhopal, Agra and Jammu.
In Ahmedabad, alleged activists of the Bajrang Dal ransacked two multiplexes, after which theatres in the city have asked for greater security.
Dozens of activists protested outside Bhopal's Jyoti Talkies and burnt posters of the film, delaying the first show by over an hour, but many who had come to see the film dismissed them as trouble-makers.
The vandalism was condemned on social media even though opinion is mixed on the Raj Kumar Hirani film about an alien who exposes a self-styled god-man.
"This film is much more a general comment on how ppl chase religion for wrong reasons and not for spirituality (sic)," tweeted Dilip Cherian, image consultant, observing that the film "makes fun of every religion."
PK has scored record earnings at the box-office since its release on December 19.
India's Censor Board has refused to delete scenes from the film, saying "it's already out for public viewing."