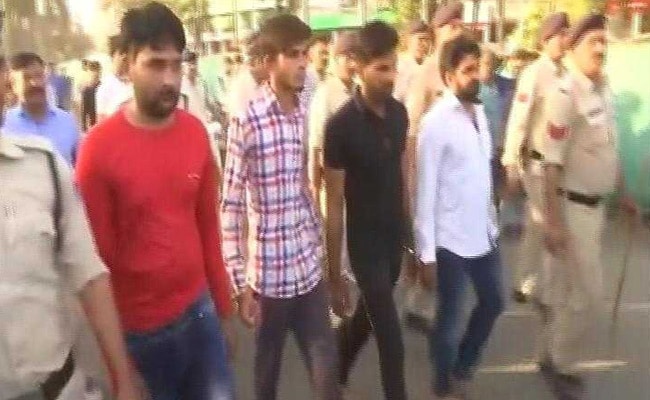 Bhopal:
The city police on Sunday arrested four men for allegedly raping a 20-year-old college student.
The accused, caught after she lodged the complaint on Sunday morning, were paraded through busy streets by the police.
While the alleged incident took place on Saturday evening, the woman lodged a complaint with the Maharana Pratap (MP) Nagar Police Station this morning, and all four accused were arrested within an hour, Deputy Inspector General of Police Dharmendra Choudhary said.
The accused were paraded through busy streets, and some women among the onlookers were seen thrashing them.
Of late, police in Madhya Pradesh have taken to parading habitual eve-teasers or those accused of sexual offences through streets, as a measure of deterrence after the government came under fire for increase in crime against women.
The DIG said that Shailendra Dangi (21), who is the victim's senior in her college, called her to a restaurant in the MP Nagar locality yesterday.
According to her complaint, after she met him, they had a fight over some issue. Shailendra snatched her cell phone and took her to his friend Sonu Dangi's room near Apsara cinema, she told police.
Sonu Dangi (21), Dhiraj Rajput (26) and Chiman Rajput (25) were already present in the room, according to the complaint.
Shailendra and Dhiraj threatened to kill her and her family, and raped her, while Sonu and Chiman helped the duo, she told police.
Afterwards they let her go, but warned not to disclose the incident to anyone, she said.
All were booked for gang-rape as they were supposed to have acted with a common intention, additional superintendent of police Vikas Kumar Sahwal said. IPC sections 376 (rape), 376 (d) (gang-rape) and 365 (kidnapping) were pressed against them.
The accused confessed to the crime, DIG Choudhary said, adding that further probe is on.
When asked why police is parading the accused through the streets, Bhopal Inspector General of Police Jaideep Kumar said it has boosted women's confidence, and they are now coming forward to lodge complaints in such cases.
The parading has instilled a fear in offenders, he said.