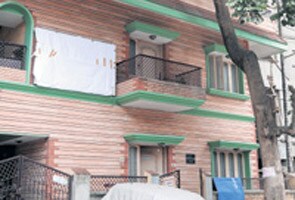 Bangalore:
A 26-year-old BPO employee narrowly escaped from getting killed by her husband by using her presence of mind.
The victim who works as an operation executive with a city-based BPO, had married her
colleague R Ravindra despite opposition from her parents in April.
The relationship soured soon, as Ravindra used to have frequent fights with her over trivial issues. When the problem became unbearable, she moved to her parents' house.
On December 13, while she was waiting for her office cab, Ravindra approached her and forced her into an autorickshaw stating that he needed to talk to her. With much resistance, she agreed to accompany him to their house in Wilson garden.
Ravindra began crying and creating a fuss, and accused her of dumping him, and asking her to give him a chance. Shocked with the development, she tried to escape with some excuse. Ravindra gulped a few tablets saying he wanted to commit suicide.
He ransacked the house and broke a few bottles. Suddenly, he stabbed her with a glass shard, and said that he would kill her and then kill himself.
Ravindra stabbed her a second time on the neck, after which she began pleading and said that she would live with him.
Her words had a calming effect on Ravindra, who agreed to take her to the hospital. He took her to the Agadi hospital for first aid and then to the Commando Hospital where she reported the incident to the doctor. Based on the information, the Wilson garden police rushed to the hospital and rescued her.
She was later sent to her parent's house. The police are on the lookout for Ravindra who is said to be absconding. "We have taken up a case against Ravindra for wrongful restrain and assault, and are investigating," said an official from the Wilson Garden police station. Suman was not available for comment.