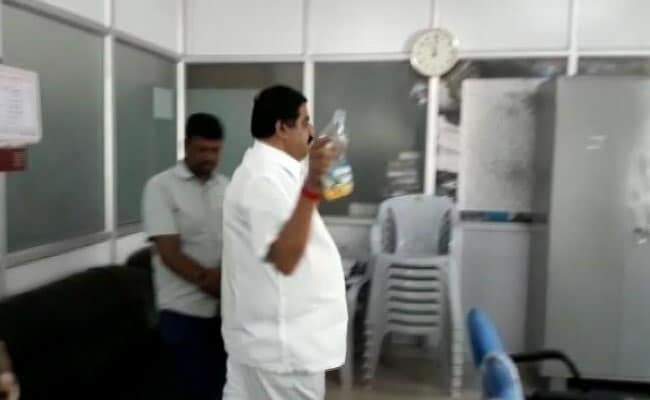 Bengaluru:
A Congress leader
accused of splashing petrol on a Bengaluru municipal office
and threatening to set it on fire has been sent to 14 days' judicial custody after he surrendered at the Ramamurthy Nagar Police Station in Bengaluru last morning.
Narayanaswamy, a former Congress block president was seen in a video splashing a yellow liquid inside the office while making threats.
A complaint had been filed by a revenue officer, Satish Kumar, and four teams had been formed to arrest him.
However, like the son of a Congress MLA accused of assaulting a man who made headlines in huge embarrassment to the party, Narayanaswamy too surrendered.
The police said that as the case was reported after a couple of days, forensic tests could not confirm if the liquid that was splashes was indeed petrol.
The Narayanaswamy incident was the latest embarrassment sponsored by leaders of the ruling Congress in Karnataka ahead of elections later this year. The BJP has been criticising the Congress on the law and order situation in the state while the Congress insists that swift action has been taken against offenders.
Last week, the son of legislator NA Haris was allegedly beat a man so badly that he ended up in the intensive care unit. Haris's son, Mohammed Nalapad, was not brought in by police but only surrendered 36 hours after the attack. This led to accusation by the opposition of political influence being used to protect him.