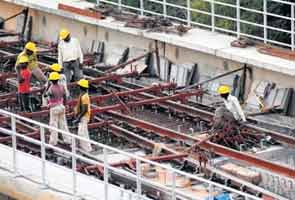 Bangalore:
The Namma Metro, after already missing the deadline twice, is unlikely to meet the third deadline on April 4 on the day of Ugadi, as the work is still not at an expected pace. While the Reach-1 between Byappana Halli and M G Road of East-West Corridor connecting Byappana Halli to Mysore Road was expected to be thrown open to the public in March 2010, the deadline was extended to December 31, 2010.
After the BMRCL (Bangalore Metro Rail Corporation Limited) failed to meet the second deadline, the launch date was re-scheduled for April 4, because Chief Minister B S Yeddyurappa wanted it to be an Ugadi gift for Bangaloreans. But, according to insiders it would not be ready to launch before June.
Trying to put a brave face, the BMRCL announced yesterday, that it would meet the deadline, while signing an MOU with the BMTC on feeder bus service to the Metro railway stations. Transport Minister, R Ashok, who attended the event, said, "I have no doubt about the BMRCL meeting the deadline and we are going to present an Ugadi gift to the commuters." However, M N Srihari, advisor to the CM on infrastructure, said there was no sign of the train services to start in June.
"There are many things to be done before we can say the service is ready for public. I believe we have not yet reached a stage that we can talk about the launch date," he said. Before launch the two tracks of the train should be subjected to various tests including traction and the train must cover at least 2,500 km as a trial. While a trial was conducted on the first track for only one trip between Byappana Halli and M G Road (a stretch of 6.7 km) last month, the second track is not yet ready for the trial.
"We are working on a third rail system that supplies electricity for the train, so we may take some more time before going on the regular trial run," said BL Yashwant Chavan, chief engineer and chief PRO for the BMRCL. But he said the department had plans to finish the works as per the schedule.
While pending works of tracks is the main cause of delay, civil works including the construction of six stations along with the stretch are going slow. The M G Road station and Vivekananda station near Ulsoor are planned to be designed on a specific theme.
The designers are to be chosen from the student community through a competition. And Chavan said the competition was at the evaluation stage and the winners would be announced shortly. "While the competition is at still an evaluation stage, how can one expect the work to be finished in 45 days? It is highly unlikely that we will see the Metro at work in April," said Srihari.