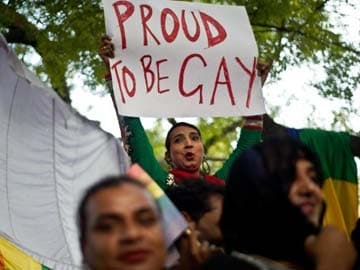 Bangalore:
For six years, Bangalore has been hosting the Queer Film Festival, organised by groups working on LGBT or Lesbian, Gay, Bisexual and Transgender rights. The festival this year, spread over three days, is the biggest ever, with 91 films from 24 countries being screened. There is music, dance and poetry recitation in the evening, drawing not only members of the LGBT community but also their allies in the IT city.
But is there a change in the mood from last year after the Supreme Court controversially upheld the laws that criminalised homosexuality in India?
"The mood is that we are not going back into the closet. We have people who are happy to be out and who have learnt over the last four years when the law was in our favour that nothing really changes. That as long as there is support, people are okay to come out and say, I am okay to be LGBT whatever the Supreme Court may think... There is nothing miniscule about this minority," festival director Vinay Chandran told NDTV,
The festival also aims to reach to the society at large. A young filmmaker from Mumbai, Nakshatra Bagwe, said, "By seeing this spirit of the crowd, I feel there is nothing like gay cinema or mainstream cinema anymore. This is cinema. People are enjoying the art and this is very motivating for queer film makers like me."
Another filmmaker, Lokesh, from Chennai agreed that the festival was an important space. "This festival has been very inspiring. Last year when I was watching the movies, I had no clue about queer films, but now I think I can make more movies. We get recognition here and then we can go mainstream."
"The ability to see our stories and our lives on screen and get that sense of camaraderie and oneness is great. These are the stories behind our lives..." actor Andy Silviera said.
With the festival screening films from around the world, we met a young Romanian, Brindusa Ioana Nastasa, who lives in Berlin. "My film is about my best friend who is gay. And I follow him with my camera for 24 hours in Berlin. It shows the loneliness people feel in big cities," the filmmaker said.
An installation is also a part of the festival: a postbox where visitors could write postcards and request the Supreme Court to repeal the laws that criminalise homosexuality in India. "I have written to the Supreme Court that LGBT people also have a life like anybody else... When Great Britain, whose laws we are following, repealed the same law way back in 1948, we can't hold to the old draconian laws and ideas," Biswa told NDTV.
But many of those attending felt that if anything, the top court's decision gave rise to sharper and more committed films. "The Supreme Court verdict is a watershed. It is going to positively affect films," Nakshatra said.