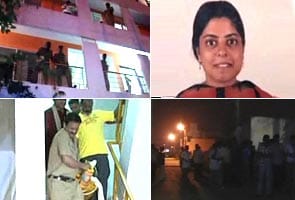 Bangalore:
Says James Kumar Ray, the prime accused in the Payal Surekha murder case, in a letter to the Human Rights Commission and the DGP, claiming that he has been tortured into confessing.
James Kumar Ray, the prime accused in the Payal Surekha murder case in Bangalore, has written a letter to the Director General of police and state human rights commission, claiming that he is innocent and the police have tortured him to confess to the crime.
He goes on to claim that the police made him purchase the 'murder weapon', which was used to frame him. James is currently lodged in the Central prison.
"On December 21, I parked my bike and went out to buy chips for my son, when a man approached me and asked for directions. While I was talking to him, another man grabbed me. The other person pulled out a gun, and threatened to shoot me if I raised an alarm. They then handcuffed me and bundled me in a car.
"They threatened to shoot me and dump my body under the bridge if I didn't confess to the murder. In Bhubaneshwar, I was forced into a hotel room and chained. I was then subjected to sustained beating. I was beaten throughout our journey to Bangalore."
"They handed me a script which said that I entered Payal's apartment, slit her throat, and repeatedly stabbed her, before fleeing. They asked me to memorise the script. Soon after recording my confession the police reduced the torture and on January 11, I was produced before the court and remanded to judicial custody."
"I have been brutally tortured and implicated in false case by a group of police officers. I am ready to cooperate with an honest officer and swear that I never entered the house of Anant Vai and Payal di on December 17," James stated.
"They (Payal and her in laws) have been my benefactors. I called her Didi, how could have I killed her?"
DCP Sonia Narang said, "Everyone says they are innocent when they are caught red handed. Even Ajmal Qasab said that. We have done a thorough investigation. Let the courts decide."
Payal Surekha, an IAS aspirant who was working at Dell Corporation, was found murdered with her throat slit in her one-bedroom apartment on December 17 last year.