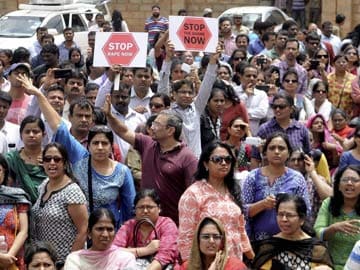 Bangalore:
Security has been tightened by police in Bangalore who have mobilised "maximum amount" of force in the wake of a 'city bandh' today called by Kannada outfits to protest against the rising incidents of sexual offences against women and children.
The bandh comes after the public outrage over the alleged recent gang-rape of a six-year-old girl at Vibgyor High school that spilled into the streets and drew all-round condemnation with the government and police coming in for criticism. (
Gym Instructors Arrested for Allegedly Raping Bangalore 6-Year-Old
)
"Kannada Okoota (federation)", an umbrella body of several Kannada organisations led by Vatal Nagaraj, has given the dawn-to-dusk bandh call, also demanded "severest" punishment to the perpetrators of sexual offences. (
After Child's Rape in School, Now 7-Year-Old Allegedly Raped at Aaya's Home in Bangalore
)
"We have taken all the necessary preparatory measures in terms of mobilising maximum amount of force both civil as well as armed from the city police, also the home guards. Nearly 1000 home guards will be on duty today," City Police Commissioner M N Reddi told reporters.
"Apart from this, we are also getting two companies of central reserve forces; we have alerted our intelligence units to collect information on any potential problems that can be created. We expect that we will be able to handle the bandh today, fairly well," he added.
Additional Commissioner of Police (Law & Order) Alok Kumar said they would take strict action against those who indulge in untoward incidents. "We may also book miscreants who indulge in unlawful activities under Goonda Act. All our personnels will be involved in bandobast from today evening itself."
Some schools have declared a holiday tomorrow. A rash of sexual offences, including the rape of a 22-year old woman in a car while she was with her friend and that of a 15-year-old nun at a seminar in Bangalore had led to public anger and rising concerns over safety of women in the country's IT hub. (
Bangalore School Reopens After Child Rape Horror
)
Facing public pressure, police issued tough guidelines to schools for safety of children and government has tightened the Goondas Act to bring sexual offenders under its ambit. (
Also Read: A Bangalore Mother's Reaction to 6-Year-Old's Rape
)