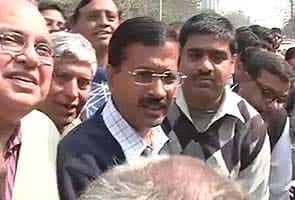 Ghaziabad:
Anna Hazare's close aide Arvind Kejriwal, who has been campaigning relentlessly for better democracy, found himself on the other end of a civic lesson today when he had to be reminded that he had a vote to cast.
Mr Kejriwal was setting off from home for election-bound Goa, when he was reminded by members of the media that Ghaziabad, where he lives, was voting today in the sixth phase of the Uttar Pradesh elections. Mr Kejriwal turned back, reached the polling booth in Indirapuram, only to learn that his name was not on the list. "I have a voter's identity card. My name was in the voters' list on the earlier occasions. What can I do," Mr Kejriwal said, looking a trifle bewildered.
The anti-corruption activist denied that he had forgotten to vote and said it was a pressing programme in Goa, planned a month ago, that had necessitated rushing out without voting. "I felt guilty not voting...but the programme for Goa was finalised a month ago and it was our mistake not to keep in mind polling dates at that time," Mr Kejriwal said. He said he decided to come back to vote after rescheduling the Goa programme.
Congress leader and chief Team Anna baiter Digvijaya Singh was waiting to pounce. Within minutes he tweeted, "Great protectors of probity in public life. Anna doesn't go to vote. Kejriwal doesn't care to see whether he is registered as voter."
Team Anna members and Congress leaders, particularly Digvijaya Singh, have often engaged in a war of words ever since the team of activists took on the Congress-led UPA government over their demand for a strong anti-graft Lokpal Bill.
Team Anna spent a better part of last year bringing extreme pressure on the government to pass a bill that met with its demands, several of which the government has been loath to meet. A deadline set by the activists to pass a Lokpal Bill that they approved of in the Winter Session of Parliament lapsed after much drama, but no Bill. The activists declared then that they would campaign against political parties that, they said, had scuttled the Bill in the Rajya Sabha after the Lok Sabha passed it last December.
In a comment that attracted much criticism, Mr Kejriwal recently said that "rapists, murderers and looters" were sitting in Parliament. Team Anna has, at its many public rallies, exhorted the people to come out and vote for a change.