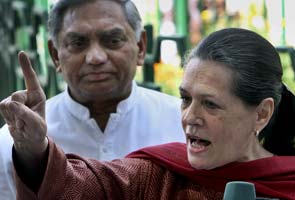 New Delhi:
While the Congress assesses damage from its disastrous showing in what was pegged as a mini-general election, its president is clear that the UPA government that her party leads at the Centre is secure and that there will be no change of Prime Minister till 2014. "The question does not arise," said Sonia Gandhi today, also refusing to answer who the Congress' candidate for PM will be in the next General Elections. "We are in 2012 and 2014 is a long way off," she said.
The Congress president made a rare appearance today to explain what went wrong yesterday and had all her answers ready. In UP, she said, a weak organisation and a poor choice of candidates had done her party in. Wrong candidates meant more rebels, she said. She also said very candidly, with a laugh, that her party's problem was not a lack of leadership, but that of "too many leaders." Spoiling the broth?
Relaxed, wearing a maroon salwar-kameez, Mrs Gandhi emerged from a series of one-on-one meetings with senior party leaders at her 10 Janpath residence this morning, and said the Congress learnt lessons from every election and would now correct its mistakes and focus on polls this year in Gujarat, Himachal Pradesh and Karnataka. "We have to pull our socks up and prepare," she said.
How these election results will affect the UPA at the Centre, as it battles the problem of recalcitrant allies, has been all the buzz. But Sonia Gandhi said her government "will continue to talk to allies and opposition and I am sure they will support us on issues that benefit the people."
Yesterday, the Congress could add only six seats to its earlier tally of 22 in UP; it lost a sitter in Punjab; lost Goa comprehensively, and fell short of a majority, though it has now staked claim, in Uttarakhand. Mrs Gandhi pointed out that the party had been re-elected in Manipur.
The Congress chief fielded questions about the party's poor showing in the family bastion of Amethi-Rae Bareli calmly. She admitted that the Congress' choice of candidates was wrong, pointing out that "In Amethi, the newcomer who we fielded won." That was one of only two seats that the Congress could win from the 10 on offer. Her daughter Priyanka Gandhi Vadra had camped in this area for more than a month and campaigned extensively door-to-door. She had also promised her mother publicly that she would deliver all 10 seats.
The mother did not offer extensive explanations for her son Rahul Gandhi's failure to convert his high-profile, high-energy efforts in UP into seats for the party. Stating that she "humbly accepted the people's verdict," Mrs Gandhi said, "In UP the people were unhappy with the BSP and the alternative for them was the Samajwadi Party." With the same candour she accepted, "In Goa, the people were unhappy with us."
The Congress president said Punjab was the big blow. In that state, she said, the Punjab People's Party (PPP) floated by Akali rebel Manpreet Singh Badal had damaged the Congress' prospects in 23 seats rather than affect the Shiromani Akali Dal as had been expected. The PPP did not win any seats yesterday, but ate into vote share. The Congress needs to assess why Punjab defied 40 years of tradition to choose the party in power for a second consecutive term - the Akali-BJP combine have made history there winning a decisive 68 seats in the 117-seat Assembly. The Congress could win only 46.
There are other assessments to be done and Mrs Gandhi said, "We will sit with party leaders and state leaders and assess what went wrong for the Congress." The Congress is also reportedly discussing an offer to resign from Digvijaya Singh, who was in charge of UP for the Congress. Mr Singh met Congress president Sonia Gandhi and reportedly offered to quit as General Secretary. When asked to confirm this, he told NDTV last night, "That's between Mrs Gandhi and me."
While Digvijaya Singh has said he takes the blame for the party's colossal failure in UP, Rahul Gandhi said last evening, "I fronted the campaign. I take responsibility." The party has fallen over itself to assert that Mr Gandhi did all he could, but was let down by poor organisation, a factor that Mr Gandhi also referred to. He said he will continue to work in UP and focus on improving the party's structure. After he met the press, his sister Priyanka, wearing jeans and a shirt, a bag slung across, hugged her brother.
Mr Gandhi's sincere assessment - he did not shy away from acknowledging that UP was clearly in the mood for the Samajwadi Party - was followed by a message of congratulations to Akhilesh Yadav, the 38-year-old who powered his father's phenomenal return to power in UP. The Samajwadi Party won 224 of the 403 seats in UP, the clearest and strongest verdict in the last two decades in the state.