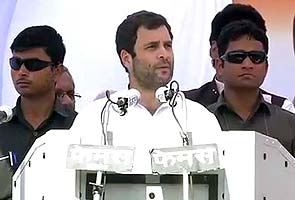 New Delhi:
Rahul Gandhi has set in motion a new political avalanche with his comment that Pakistani agencies are approaching young Muslim who lost family members in the communal riots of Muzaffarnagar.
The BJP says that Mr Gandhi's remarks cast aspersions on the patriotism of Indian Muslims by suggesting they are vulnerable to offers of recruitment from Pakistani groups that are against India. Muslim clerics have said they are disappointed with Mr Gandhi's comment. Maulana Saif Abbas Naqvi, a Shia cleric, said, "These are grave insinuations against millions of peace-loving and patriotic Muslims in the country."
And others have said that if Mr Gandhi's allegation is correct, then he has wrongly disclosed confidential information shared with him by an intelligence officer.
Yesterday, at an election rally in Madhya Pradesh, which votes on November 25, Mr Gandhi said,"An intelligence officer came into my room and told me that people from Pakistan's intelligence agencies are talking to a few Muslims boys whose relatives were killed in Muzaffarnagar riots. He said he tried to talk to the boys and convince them not to get influenced by these people."
The 43-year-old made this remark while accusing the BJP, which is seeking a third term in Madhya Pradesh, of provoking communal riots in different parts of the country, including Muzaffarnagar in Western Uttar Pradesh, where nearly 50 people were killed in September. The BJP today complained to the Election Commission, saying Mr Gandhi had made these allegations "without an iota of truth."
"Rahul Gandhi has tried to point the needle of suspicion at Muslims by his remarks today. He has raised questions about the patriotism of Indian Muslims by saying they were approached by ISI. This is unfortunate. He should apologize for his remarks," BJP spokesperson Shahnawaz Hussain said.
The BJP has also asked the government to explain why Mr Gandhi, who holds no post in the government, is being briefed by intelligence officers on important security issues.