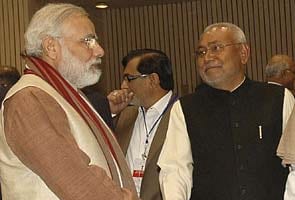 Patna:
Narendra Modi is back as the chief minister of Gujarat for a third term. His return was virtually guaranteed, with the only suspense hovering around whether he would beat his last tally of 117 seats. He's fallen two short.
(Read)
"Acknowledge his governance and his leadership," said his party's Ravi Shankar Prasad.
But an important ally for the BJP, the Janata Dal United or JD(U), doesn't share the enthusiasm.
The riots of 2002 in which more than 1,200 people were killed in Gujarat, most of them Muslims, during Mr Modi's first term as chief minister make him an unpalatable partner for important allies of his party, especially the JD(U) and its leader, Nitish Kumar. That could impede Mr Modi's aspirations to run for prime minister in 2014.
The BJP leads a group of parties in the National Democratic Alliance (NDA). Nitish Kumar and his Janata Dal(United ) are a heavyweight member of that group.
As chief minister of Bihar, where the support of the state's Muslim population is one of his strengths, Mr Kumar has said that he will not accept as the leader of the coalition a person whose secularism is questionable.
So far, Nitish Kumar has not commented on Mr Modi's victory.
"What is proved by his win...what does that have to do with us?" asked Ali Anwar, a parliamentarian from the Janata Dal(United) in Delhi today. "When they discuss the candidates with us, we will share our feedback. We are a secular country...a leader must exhibit secular credentials," he said.