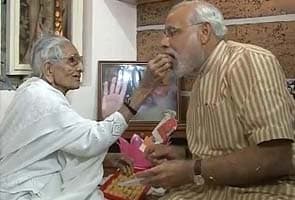 Gandhinagar:
In Gandhinagar, Narendra Modi, endowed with a sizeable victory in the Gujarat elections, visited his mother in the afternoon, announcing on twitter that he wanted to seek her blessing.
"When Narendra bhai left home he was only 16, we never thought he will reach such heights," his younger brother, Pankaj said, adding that the family has been distributing sweets all day to celebrate the election result.
Media reports said that his mother, Hiraba, said that she believes he will make India proud when he becomes Prime Minister.
The chief minister's aspirations to run for the country's top job in 2014 are well-known and acknowledged. But while the results today establish that Mr Modi remains unstoppable in Gujarat, designing his ascent to the national political ring is complicated.
When 1, 200 people were killed in Gujarat in 2002, Mr Modi was serving his first term as chief minister. Allegations of complicity in the riots dog him, though he has not been indicted so far.
This morning, when it was clear that his third term as leader of the state was signed, sealed and delivered, he tweeted, "No need of looking behind, FORWARD! We want infinite energy, infinite courage, infinite patience..."
His party's Arun Jaitley told NDTV, "This is a vote for Modi's leadership... Look at the vote that he's been getting - it defies caste and community," Mr Jaitley said, in reference to the criticism that the much-lauded development of Gujarat has not included the state's Muslims.