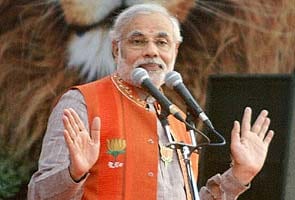 Ahmedabad:
A day after senior Congress leader Ahmed Patel dubbed him as 'sultan', Gujarat Chief Minister Narendra Modi today hit back saying it is "dynasty that produces sultans".
At a rally in Jambusar Mr Patel, political secretary to Congress president Sonia Gandhi, had said, "Mr Modi wants to rule Gujarat like a sultan of six crore people. People have to stop this sultan."
Mr Modi countered the attack by saying, "He called Modi a sultan!...but it is dynasty that produces sultans and you spent your life in the service of these sultans in New Delhi, hence you cannot think of any other word."
"We are here due to the support of people and Ahmed miyan, if you understand democracy, the word sultan would never have come out," Mr Modi said.
Meanwhile, Mr Patel, who campaigned at Mangrol in Surat today, continued his tirade against Mr Modi saying he is the "most corrupt person" in Gujarat.
"He (Mr Modi) is saying that there is no corruption in Gujarat government. But it has been proved that he is the most corrupt person in Gujarat...If dogs from across the world are released, they would find Chief Minister's bungalow in Gandhinagar, a hub of corruption," Mr Patel said.
Raking up the issue of Congress chief ministerial candidate for Gujarat, Mr Modi had said around ten days back that opposition party wants to make Mr Patel the chief minister of the state, but are afraid to declare it in public.
Expressing displeasure over Mr Modi's remarks, Congress poll committee chairman Shankersingh Vaghela had accused him of dragging the name of Ahmed Patel into electioneering ahead of Gujarat Assembly polls because he "wanted to play the communal card".