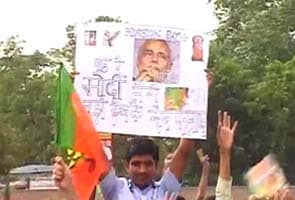 Bangalore:
Five years after handing the BJP its first opportunity to rule a southern state, Karnataka's electorate votes today to decide whether the BJP should continue in office or whether the mandate should go to other contenders.
A series of A-listers - Gujarat Chief Minister Narendra Modi, Prime Minister Manmohan Singh, Congress President Sonia Gandhi and Congress no 2 Rahul Gandhi -- blitzed through the state over the past few days, ensuring a high-pitched finale to electioneering.
While BJP leaders have expressed confidence about retaining power, the Congress campaign has asserted that the state's voters will return it to power and cites the party's impressive win in the recent urban body elections as an indicator of which way the political winds are blowing in Karnataka.
The Janata Dal-Secular, another big player in Karnataka, fancies its chances too.
Meanwhile, BS Yeddyurappa - the BJP's first Chief Minister who quit the party in December and set up the Karnataka Janata Party (KJP) - says, "the time has come for Karnataka to elect a regional party." Though his party is not expected to gain enough numbers to form a government on its own, there's little doubt that the Yeddyurappa factor will be significant. The KJP could split votes among the Lingayat community, considered a BJP stronghold.
Which way Karnataka's Vidhana Sabha will shape up will be known on May 8, counting day.
Over 40.36 million voters, including 21.35 million women, are eligible cast their ballot. Voting at the 52,034 polling booths will start at 7 AM and conclude at 6 in the evening.
There are nearly 3000 candidates in the fray for the 225-strong Assembly; 224 MLAs are elected and one is nominated.
In the 2008 elections, the BJP secured 110 seats, three short of majority, and went on to form the government with the help of independents. The Congress bagged 80 seats and the JDS 28.