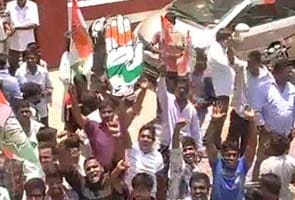 Bangalore:
The Congress has emerged as the single-largest party in Karnataka and at 11:15 am on Wednesday, seemed set to form government, perhaps even on its own as it led in 117 seats in the 224-seat Assembly.
If all leads do not convert to results, the party says it is open to talking to the Janata Dal (Secular) which is the other big gainer of the day and is now placed at number 2. After five years of turbulent rule in Karnataka, the BJP is history.
JD(S) leader HD Kumaraswamy, however, ruled out any alliance with the Congress and said they will sit in the Opposition. "We will fight against Congress like we fought against BJP. We will sit in the Opposition; Congress will not come to our house, there are other small parties," he said. (
Read
)
The JD(S) also said that while it did all the hard work to highlight the BJP's failings in the last five years, the Congress was getting the fruits of that effort.
Out of the 223 seats, the Janata Dal (Secular) is leading in 42, the BJP in 35 and BS Yeddyurappa's KJP in 11. (
Read: Highlights of the Karnataka election results
)
Mr Yeddyurappa has effectively split the BJP's vote, but has failed to convert that into gains for his newly floated Karnataka Janata Party. But he is hanging in there, offering help in government formation if his likely clutch of seats are needed. (
Read: BJP says split hurt the party
)
In 2007, the BJP had won 110 - and made up the difference with the help of Independents to form government. Party leaders had hoped for about 80 seats this time, but right now the party seems unlikely to be anywhere near that, faring poorly even in urban strongholds like Bangalore. (
Watch: Modi has no magic, says Congress' Siddaramaiah
)
"This accidental fluke victory of the Congress because of the split in BJP votes," said the BJP's Ravi Shankar Prasad.
Celebrations have begun at the Congress headquarters in Delhi; the party which rules at the Centre needs the good news, caught as it is a series of corruption scandals perilously close to general elections, now months away. (
Watch: Congress should cross 120 seats, says Parameshwara
)