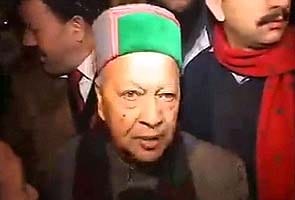 Shimla:
In cold Himachal Pradesh, 76-year-old Virbhadra Singh looks a relieved man. He has delivered a win for the Congress, which has crossed the halfway mark and is set to form government in the state.
Chief Minister Prem Kumar Dhumal of the BJP earlier conceded defeat and congratulated the Congress. And senior BJP leader Shanta Kumar said in Delhi, "We accept the verdict. All people in the BJP had fought elections together. The people did not vote for us. We accept it."
The Congress has won 36 seats while BJP 24, of the state's 68 seats. The election was being seen as possibly the last chance that Virbhadra Singh, a five time Chief Minister, had of resurrecting his political career after he had to step down as Union Minister this year because of corruption charges. (
Read: Sonia to decide chief minister, says Virbhadra Singh
)
Pitch-forked late into handling the Congress' bid to wrest back Himachal, he had to battle internal party wrangles, whisper campaigns and even the issue of the cap on the subsidised LPG cylinders imposed by the Central government led by his party just before elections in the state.
What Mr Singh was counting on was the high voter turnout in the November 4 elections, a record at 74 per cent. The Congress said this was a clear indication of an anti-incumbency vote. And on Himachal's track record of always voting against the party in power; no ruling party has retained power for two straight terms in Himachal. (
Read: Virbhadra Singh wins by record margin
)
As it became clear today that the Congress would indeed take the state back from the BJP, Mr Singh said, "I was asked to go back to the state and ensure a Congress win... who will become the next chief minister will be decided by the Congress high command, and president Sonia Gandhi."
The BJP began the day well; very early trends seemed to go its way prompting Chief Minister Prem Kumar Dhumal to say that he expected a sound victory. But that changed within an hour and the Congress has not looked back since. The BJP's star campaigner Narendra Modi, who is celebrating a hat-trick of assembly election wins in Gujarat, had campaigned extensively for the party in Himachal Pradesh and the BJP's loss has prompted his critics to ask why the much-touted Modi magic failed here.
A big win for Mr Modi in Gujarat was widely seen as an indication that the Gujarat Chief Minister was ready for a bigger role at the national stage. But he does not enjoy universal acceptability, a point that his detractors have been underscoring today. Sources in the JD(U), which partners the BJP in the National Democractic Alliance or NDA, said today that if Mr Modi had enjoyed immense popularity all over the country, his efforts would have worked in Himachal.
In 2007, the BJP had won 41 seats, the Congress 23, the Bahujan Samaj Party one and independents three. The BSP legislator later joined the BJP. (
Read: Dhumal wins by slender margin
)