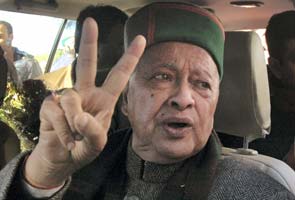 Shimla:
Even after leading the Congress to victory in the Himachal Pradesh assembly polls Thursday, the sailing may not be smooth for state party president Virbhadra Singh to become chief minister for the sixth time.
The former union minister's rivals in the party are said to be now teeming up against him.
Sources in the Congress said Friday that Commerce Minister Anand Sharma, known for his ideological differences with Virbhadra Singh, is also eyeing the chief minister's post.
Sharma, who Thursday night declared on TV news channels that he was not in the race, has also said he would take up any responsibility the high command entrusts him with.
A Congress leader said Sharma and his handful of loyal legislators were using the criminal case registered against Virbhadra Singh and charges framed in a court here as the trump card.
But those supporting the veteran leader rubbish claims of other leaders, saying he has the support of 28 of the 36 newly-elected legislators.
"The elections were conducted under his (Virbhadra Singh's) leadership and the party won the mandate. This means the voters rejected the issue of Virbhadra Singh's corruption cases. It was also against anti-incumbency of the BJP government," a Congress legislator told IANS. He did not want to be named.
He said more than 25 legislators and an equal number of former legislators are expected to reach Shimla Friday evening to give a message to the Congress high command to declare Virbhadra Singh the new chief minister.
Virbhadra Singh told IANS Friday that party leadership had given him the responsibility and he fulfilled it with sincerity.
"Now it is for the high command and Sonia Gandhi-ji to decide on further responsibilities for me," he said.
"The party still needs a strong leadership that can pave way for a comfortable victory in the next (general) elections," he said.
Since morning, large number of party members from across the state, including newly-elected legislators, have been pouring into the leader's house, Holly Lodge, in Jakhu hills here.
Virbhadra Singh, in his brief tete-a-tete with the supporters, did not touch upon the leadership issue but did take a dig at some party leaders for their conspicuous absence from campaigning in the state.
"There are several senior leaders who did not even spare an hour for campaigning out of their constituencies," he said.
He was hinting at former state party president Kaul Singh and former ministers G.S. Bali and Asha Kumari, who owe allegiance to Anand Sharma.
Ahead about the polls, Virbhadra Singh said he travelled across the state and held more than 90 meetings in less than 20 days of aggressive campaigning.
The five-time former chief minister belongs to the erstwhile royal family of Bushehr state and is popularly known as "Raja Saab".
Political observers said that with the win, he managed to re-establish his credentials as a charismatic leader.
"He withstood the attack alone when the entire BJP (Bharatiya Janata Party) leadership was gunning for him. But they could not stop his march to victory. Now enemies in his own camp can't stop him from reaching the top post," said an observer, who too did not want to be named.