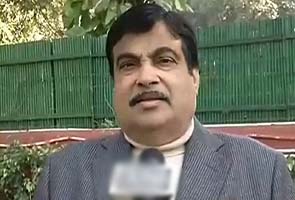 New Delhi:
BJP president Nitin Gadkari today thanked the people of Gujarat for voting the party back to power.
He said it was a vote for "development and Mr Modi's leadership."
"The Congress tried to play the communal card but failed. Gujarat will continue to flourish under the leadership of Narendra Modi. I thank the people who have voted for BJP again. I also congratulate the party workers," the BJP president said
"People have voted for the BJP for the fifth time and Narendra bhai's leadership for a 3rd time," he added.
Narendra Modi will be Chief Minister of Gujarat for a third straight term. Projections based on leads at 01.30 pm show Mr Modi likely to end the day at 123 seats, six more than last time and enough to make his party state that his "vibrant Gujarat" plank worked despite the Congress' best effort to discredit him.