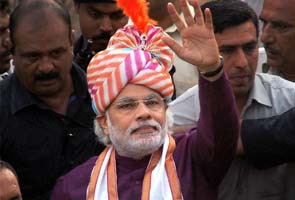 High on his hat-trick performance in Gujarat, Chief Minister Narendra Modi says the best is yet to come. The politics of development and good governance have triumphed, and Gujaratis have set an example for the rest of the country, Mr Modi writes in his blog. Here's the full text of his post.
My dear Sisters and Brothers of Gujarat,
The people have spoken yet again and they have spoken loud and clear! The results of the 2012 Gujarat Assembly elections have yet again established the victory of development politics and good governance over everything else! I thank the people for their affection, support and unwavering faith in our party as well as government. The people have given us a resounding mandate and I assure that we will leave no stone unturned in upholding the faith placed in us by the people.
Most importantly I would like to express my deepest gratitude to the Almighty, who showered us with blessings at every moment and gave us immense strength to serve the people of Gujarat for the last 11 years. Today, we are happy to have again got the opportunity to be blessed by the Almighty through serving the people for the years to come.
These elections are a victory of the people of Gujarat! It is a victory of Gujarat's Nari Shakti that has made its voice heard. It is a victory of our youth, who have taken this election on their shoulders right from the beginning; it is a victory of our farmers, the underprivileged, our senior citizens who have stood by us. These elections are a victory of Gujarat's model of Sarvasparshi (all pervasive), Sarvasamaveshak (inclusive) and Sarvangi (holistic) model of development and good governance.
I consider it the strength of India's democracy that a man like me, who was born in the most ordinary of ordinary households, has got an extraordinary opportunity to serve society for so many years. I grew up among the people and it is their love and affection that has got me this far and given me the sacred opportunity to serve them day and night.
For those youngsters who aspire to serve society and work towards nation building, there is a lot to learn from the Gujarat Elections. Very often youngsters are disappointed on whether doors will open for them in a system where pedigree seems to matter more than hard work. Gujarat has shattered this cliche and demonstrated to the world that if you have the urge to serve our Motherland and the ability to overcome any obstruction come what may, then you will be given that opportunity to work irrespective of what dynasty or community you belong to!
A profound thanks to the BJP Karyakartas, who fought as one team and tirelessly worked towards making the Lotus bloom more than ever before in Gujarat. This victory is the story of the sacrifices and determination of lakhs of our Karyakartas.
I have always stated that the Gujarat elections will be remembered as an election that will bring a paradigm shift in electioneering across India. By placing the development agenda above everything and by comprehensively rejecting the partisan agenda of casteism, votebank politics as well as divide and rule, the people of Gujarat have created a historic example in the eyes of the entire nation. Today Gujarat stands Ekmat with the message that it is politics of development and good governance that triumphs!
Friends, the need of the hour is to stand united as 6 crore Gujaratis. We are not a government only for those who voted for us, we are a government deeply concerned about each and every individual of this state. As Gujarat marches ahead on the path to glory and pride, the growth and success of every Gujarati belonging to every caste, creed and class is vital.
Poverty, destitution or stagnation do not enter society seeing what caste, class or community a person belongs to and nor are votebank and caste politics the solution to these problems. If we are to make a qualitative difference in the lives of the people, it is by making the fruits of development and good governance reach the last person in the queue. That has been our vision and we will continue to work on it for the years to come.
In every instance of Gujarat's development there is the mammoth contribution, hard work and sweat of the people of Gujarat. We have only supported your hard work by creating a people-centric environment where you can grow and prosper faster. Gujarat has revolutionised agriculture and is ushering in India's second Green Revolution, Gujarat made it attractive for industries to put their money in the state so employment can be created and economic activity can be generated. Gujarat focused on basic infrastructure - bijli, paani and sadak - so that your work does not get hampered due to lack of basic amenities. We have eliminated the influence of middlemen and agents corroding the delivery of benefits under our poverty alleviation schemes.
To give you an example, over the last decade, Gujarat has witnessed the rise of a neo-middle class. The improvement in their lives is a result of their hard work. This is the real Gujarati spirit - one which has stood the test of time. Our government's economic policies have enabled them to taste the fruits of development and scale new heights of prosperity. It becomes our duty to continue to take care of the well-being of this new segment in Gujarat's society.
A very common question I have been asked is - Modiji, what is going to be your agenda in the coming years for Gujarat's development. In the coming years, we will continue serving our people, create opportunities for each and every one of you to prosper. We will build a Gujarat where not only you are happy but also where your future generations lead a life of happiness. The journey towards a Bhavya and Divya Gujarat has just begun!
Friends, the best is yet to come! Jay Jay Garvi Gujarat.
Narendra Modi
Source:
www.narendramodi.in
Get Breaking news, live coverage, and Latest News from India and around the world on NDTV.com. Catch all the Live TV action on NDTV 24x7 and NDTV India. Like us on Facebook or follow us on Twitter and Instagram for latest news and live news updates.