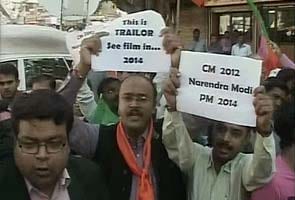 Gandhinagar/Shimla:
Some anxious moments have replaced the BJP's early morning cheer. In Gujarat, Narendra Modi might not do as well as widely predicted and in Himachal, the Congress has caught up and got ahead after a slow start. The BJP rules both states.
In Gujarat, projections based on leads at 9.44 am show Narendra Modi racking up about 108 seats in Gujarat, lower than the 117 he managed in 2007 and a result that would disappoint the chief minister, whose political career and next steps have reportedly been hinged on a big win in Gujarat.
The Congress began the morning seeming to have made important gains in north Gujarat; those gains are down to about two seats right now. North Gujarat was dominated by the BJP in the 2007 assembly elections.
Many in the BJP have been seeking a bigger role for Mr Modi on the national stage, and there has been much talk of him being projected as the party's candidate for Prime Minister in the 2014 general elections.
But Mr Modi is not universally acceptable to allied parties like the JD(U). A big win in Gujarat would give Mr Modi much bargaining power.
The Gujarat Parivartan Party (GPP) headed by former Chief Minister Keshubhai Patel has failed to make any dents. The Gujarat Assembly has 182 seats. The BJP has 117 in the outgoing assembly against the Congress' 53.
The Congress is now ahead in the hill state of Himachal, which has 68 seats. A party needs 35 for sole majority to form government. The state has never returned a party to power and the Congress has been counting on the anti-incumbency vote. The state also saw a record 74 per cent voter turnout, giving the Congress hope that it was a vote for change.