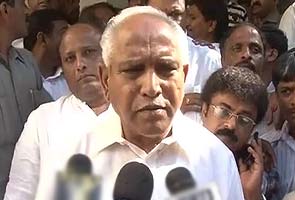 Bangalore:
BS Yeddyurappa, the Karnataka strongman who quit the BJP in a huff earlier this month, has said that the party's big win in Gujarat is the "victory of brand Modi", not that of the BJP.
"We can make out the impact of the BJP through the result of Himachal Pradesh," Mr Yeddyurappa said of the party that he was in for 40 years. The BJP lost Himachal Pradesh to the Congress today.
Mr Yeddyurappa was one of those in the BJP who openly batted for projecting Gujarat Chief Minister Narendra Modi as a candidate for PM. "According to a survey, Modi is the most popular leader of the country and the party must think on these lines and take decisions," he had controversially said in May this year.
But now that he is not a BJP man anymore, Mr Yeddyurappa, who has launched his own party the Karnataka Janata Party (KJP) recently, would not comment on Mr Modi's potential as a future candidate for prime minister after his massive victory. "I don't want to make any comment on that now because I am no more in that party," he said.
Mr Yeddyurappa had won the BJP its first southern state in 2008, but had to step down as chief minister last year after being charged with corruption. He flailed for months at not being reinstated and finally quit the party this month.