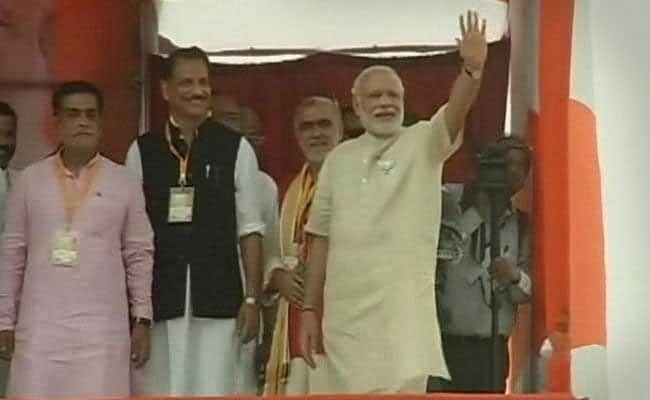 Bhagalpur, Bihar:
Prime Minister Narendra Modi today said that people of Bihar are the "most intelligent" at an election rally in Bihar's Bhagalpur, to blunt chief minister Nitish Kumar's repeated attacks over his "DNA" comment.
"I have come to appeal to you that today Bihar is ready to touch greater heights of development, their intellect is well known, has great tradition and values that are centuries old... the whole country feels that if Bihar moves ahead with development, then India will progress and move ahead of the rest of the world," said PM Modi.
On July 26, PM Modi had said at a rally in Muzaffarpur that deceit and treachery are in the chief minister's DNA. Mr Kumar had asserted that his DNA is the same as the DNA of every person in Bihar, and that insulting him is an insult to Bihar.
Since then, the likes of Rashtriya Janata Dal (RJD) chief, Lalu Prasad, Congress President Sonia Gandhi, and Delhi Chief Minister Arvind Kejriwal have attacked PM Modi for the comment.
The Prime Minster also accused Mr Kumar and Mr Prasad for giving a "Tilanjali" or sacrificing the legacy of towering socialist leaders like Ram Manohar Lohia and Jayaprakash Narayan, by sharing the dais with Congress president Sonia Gandhi at a rally in Patna's Gandhi Maidan on Sunday.
PM Modi said, "Two days back there was a sacrificial meeting in Gandhi Maidan in which JP, Lohia, and Karpuri Thakur, were sacrificed. Lohia fought against Congress but his disciples have now betrayed him for their lust for power. They have joined hands with those (Congress) who put JP in jail."
This was PM Modi's fourth and last of the "Parivartan" rallies in Bihar, where assembly elections are due in a few months.
The BJP led National Democratic Alliance is pitted against Mr Kumar's Janata Dal United, Mr Prasad's RJD and the Congress, in what is billed as the most crucial election since last year's Lok Sabha polls.