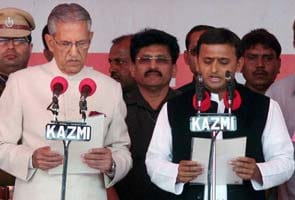 Lucknow:
New Uttar Pradesh Chief Minister Akhilesh Yadav will be hoping hard this is not a portent. Barely had the 38-year-old been sworn in as the state's youngest Chief Minister, that his biggest challenge was demonstrated by his party workers who shoved their way onto the stage and were seen climbing on sofas.
So shortly after being sworn in, the young SP leader assured the people of his state that his government "will not tolerate lawlessness and will tackle it with an iron hand." "Samajwadi Party will fulfill promises made in the manifesto. Law and order will be our responsibility from today," he said. During extensive campaigning in Uttar Pradesh during the recently held polls, Mr Yadav had vowed to cleanse his party of "goonda-giri" or hooliganism; he had also said
that his top priority would be to deliver law and order to a state besieged by crime.
Earlier in the day, Mr Yadav, dressed in white kurta pyjama and black sleeveless jacket and looking uncannily like his father Mulayam Singh Yadav, took oath at 11.34 am at the La Martiniere College grounds in Lucknow. He firmly shook hands with Governor BL Joshi, and then, a picture of calm, reached into his left breast pocket for a pen, signed and waved to the hundreds of SP supporters who had gathered at the venue since early morning.
Nineteen Cabinet ministers and 29 ministers of state also took oath, among them the controversial independent MLA with criminal antecedents, Raghuraj Pratap Singh or Raja Bhaiyya, who expectedly thrown his lot with the SP. After taking over as the CM, Akhilesh defended Raja Bhaiyya, who has been a minister before in a Mulayam Singh government, and accused his predecessor Mayawati of filing false cases against him. "We all know how cases against Raja Bhaiyya were filed," he said.
"Organised corruption as happened in the previous regime never took place in the state. There were restrictions during the previous government and UP is now celebrating democracy," he added.
In the star-studded audience cheering Mr Yadav at the swearing-in ceremony were Sitaram Yechury, Biman Bose and industrialist Anil Ambani.
His unruly cadres are already proving to be the new UP Chief Minister's Achilles Heel. He has the advantage of having come to power with an unambiguous majority with 224 seats in the 403-seat UP Assembly. He scripted that Samajwadi Party win with a forward-looking agenda that has promised the people of UP freedom from goonda raj and good law and order, jobs and education, and good economics. He now has his task cut out - he has vowed to implement his election manifesto to the full.
Rival parties wager that law and order will deteriorate in a Samajwadi Party regime, as has happened before. Even before Akhilesh was sworn in, he has been called upon to explain violent conduct of SP workers in several places. He had so far pleaded that officials of the old dispensation were to blame. Now, having taken charge, he has to prove that those were not empty words.
Among other things he promised in that document were sops like laptops students who passed class 10, tablet computers to those who passed class 12, allowance to unemployed youths, free treatment to patients suffering from serious ailments and loan waivers for farmers.
Akhilesh will also have to take a call on constituting a commission for taking legal opinion on providing reservation to Muslims and implementing recommendations of the Ranganath Mishra Commission and the Sachar Committee.
The SP leader has also said that rooting out corruption in the state is among his top priorities. And has promised to remove the ban on student politics in the state.