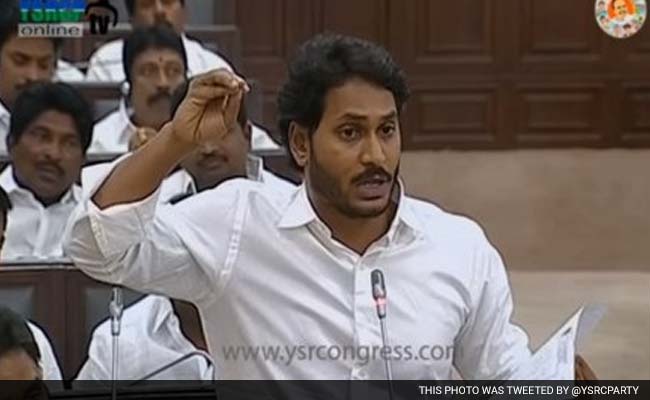 Hyderabad:
The Jaganmohan Reddy-led YSR Congress Party (YSRCP) today gave a notice to move a motion of no-confidence against the Telegu Desam Party (TDP) government in Andhra Pradesh.
The YSRCP said it was seeking to move the no-confidence motion as the TDP failed to fulfil the promises it made ahead of the elections in 2014. "People have lost confidence in the TDP government as it failed on all fronts. It is also steeped in corruption," the party alleged.
The motion may be taken up only next week as the House will have a three-day holiday from Friday.
The notice was submitted to Andhra Pradesh Legislative Assembly Secretary.
YSRCP president YS Jaganmohan Reddy yesterday tried to corner the government on the
alleged land deals in the new capital region
Amaravati but faced a verbal onslaught from ruling TDP and BJP members
The Leader of Opposition was also repeatedly admonished by Speaker Kodela Sivaprasada Rao over his behaviour in the House.
Speaking on the motion of thanks to the Governor's address, Mr Reddy tried to corner the TDP-BJP administration on different issues, like the "failure" to secure special category state status for Andhra Pradesh, special financial assistance and Polavaram irrigation project, among others.
He also sought to put the government in the dock over the land deals in the state capital region Amaravati in which some ministers, lawmakers, legislators and other leaders of TDP have allegedly purchased huge tracts of land.
Chief Minister N Chandrababu Naidu himself intervened and demanded Mr Reddy prove his allegations right on the floor of the House.
37 legislators belonging to the Opposition party
were yesterday suspended from the Assembly for a day as they tried to stall proceedings of the House over the alleged land deals in Amaravati.
(This story has not been edited by NDTV staff and is auto-generated from a syndicated feed.)