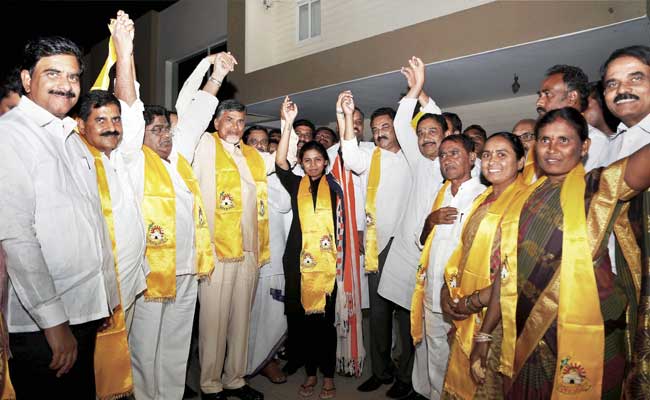 Vijayawada:
With the Telugu Desam Party (TDP) in Andhra Pradesh actively pursuing a strategy of luring leaders from the rival camp, one more legislator of the opposition YSR Congress today joined the ruling outfit, taking the number of legislators to cross the floor to six in less than a week.
T Jayaramulu, representing Badvel in Kadapa district, met Chief Minister and TDP chief N Chandrababu Naidu before announcing his decision to join his party.
Dealing a blow to Jaganmohan Reddy-led YSRC, its four legislators and one MLC had on Monday crossed over to the TDP.
Mr Jayaramulu said he was joining the TDP only for the sake of "development" of his constituency and the state as a whole.
"I am attracted by the development of the state by the chief minister and hence joined the TDP. I will do justice to people of my constituency through development," he said.
Setting its eyes on the 2019 polls when the number of Assembly constituencies in Andhra Pradesh is expected to increase to 225 from the current 175, TDP is working on a strategy to woo local leaders from other parties.
According to TDP sources, the gameplan, dubbed 'operation akarsh', has the full backing of Mr Naidu.
The party is giving a "development-orientation" to the move arguing it will embrace anyone who is ready to be part of its social and economic agenda.
"Anybody who is ready to join hands with us to take our development agenda forward will be admitted in the party," TDP secretary and MLC Tondepu Dasaradha Janardhan told PTI.
The YSRC legislators - Bhuma Nagi Reddy (Nandyal), his daughter Akhila Priya (Allagadda), Adinarayana Reddy (Jammalamadugu), and Jaleel Khan (Vijayawada West) - said they were joining TDP for development of their constituencies and the state.
YSRC MLC and elder brother of Adinarayana, Narayana Reddy, also joined the TDP.
Ruling out their resignation as legislators, they've left the ground open for the opposition party to seek their disqualification, a process that would be in the Speaker's domain.