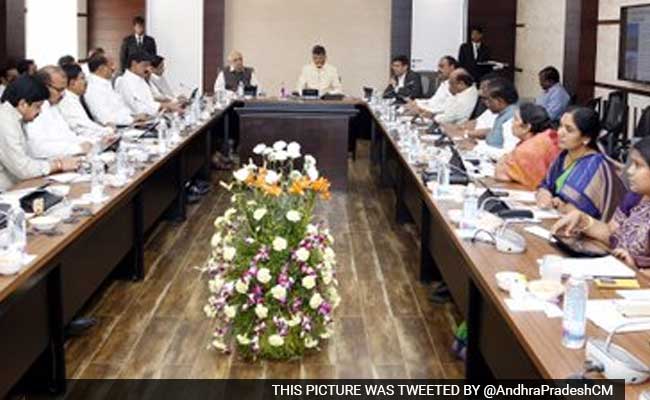 Hyderabad:
The Andhra Pradesh Assembly's Budget session beginning tomorrow is likely to be stormy in view of eight opposition YSR Congress Party (YSRCP) legislators switching loyalty to ruling Telegu Desam Party (TDP), and war of words between the two parties over alleged land deals in capital city region.
The session would have 18 working days, Speaker K Sivaprasad Rao said yesterday.
The Budget is expected to be presented on March 10. The YSRCP is seething with anger following eight of its legislators crossing over to the TDP and its member RK Roja suspended for one year in the last session for her alleged unparliamentary comments against ruling party members, including Chief Minister N Chandrababu Naidu.
YSRCP deputy leader in the Assembly, Jyothula Nehru, had said they might move a no-confidence motion if the state Budget is not satisfactory.
"The TDP government so far failed to keep its promises and has been adopting anti-people policies. If the Budget is not satisfactory, we will move a no-confidence motion against the government. We may also move a no-confidence motion against Assembly Speaker Kodela Sivaprasada Rao," Mr Nehru said after a meeting of the YSRCP Legislature Party on March 1.
Some YSRCP members feel that this can build a strong legal case against its legislators who switched over to the ruling party.
By moving a no-confidence motion, the YSRCP gets to issue a whip to its legislators, and whoever violates it will be liable for disqualification.
The TDP and YSRCP have been engaged in a war of words, with the latter alleging that ruling party leaders have purchased lands "illegally" in the capital city region of Amaravati by "misusing" power. The YSRCP has also sought a probe in its allegations.
The YSRCP also charged the TDP government with having failed to implement its poll promises like loan waivers for farmers, women self-help groups and doles to unemployed youth.
The TDP failed to get the promises, including special status, railway zone at Visakhapatnam, bridging the revenue deficit, made to it by the Centre during state bifurcation in 2014, the Opposition party has alleged.
(This story has not been edited by NDTV staff and is auto-generated from a syndicated feed.)