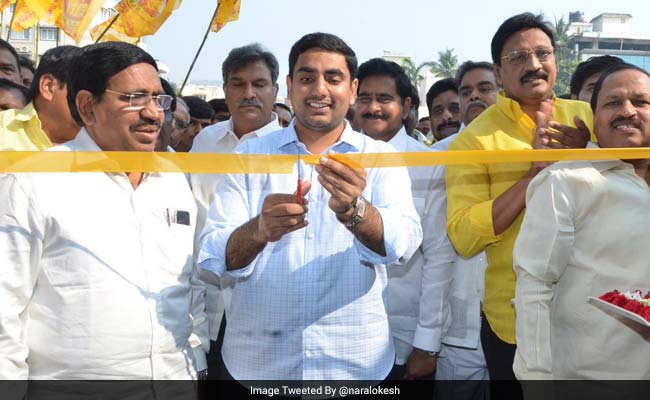 Amaravati:
The Andhra Pradesh Legislative Council on Thursday welcomed 14 new members, including Chief Minister N Chandrababu Naidu's son Nara Lokesh, after they were sworn-in by Chairman A Chakrapani.
Of the 14, seven were elected to the Council under the MLAs quota, two from Local Authorities Constituencies, three from Graduates and two from Teachers constituencies in the biennial elections held this month.
While Nara Lokesh took the oath in the Council's Business Advisory Committee meeting hall, the others completed the formality inside the Upper House.
Soon after taking oath, Nara Lokesh was blessed by Vedic scholars who chanted hymns. He later went to his father and took his blessings.
The newly sworn-in Telugu Desam Party members were: Karanam Balarama Krishna Murthy, Dokka Manikya Varaprasad, Batchula Arjunudu and Pothula Sunitha (MLAs quota), G Deepak Reddy and M Ravindranatha Reddy (LACs).
BJP's P V N Madhav (Graduates), YSR Congress' Alla Kali Krishna Srinivas and Gangula Prabhakar Reddy (MLAs quota) and V Gopal Reddy (Graduates) also took oath.
Independents Y Srinivasulu Reddy (Graduates) and V Balasubrahmanyam (Teachers), who got re-elected, and another K Narasimha Reddy (Teachers) were also sworn-in by the Chairman.
The ruling TDP's strength has now gone up to 31 in the 58-member Council while the YSRC's number rose to eight.
The Congress is now left with just one member while the BJP's tally increased to two.
Seven others, who were also elected to the Council in this month's election, will take oath on May 1 when the term of the sitting members expires.
Meanwhile, TDP MLC from East Godavari district, Reddy Subrahmanyam, has been chosen for the Council Deputy Chairman's post. The post fell vacant upon the retirement of Satish Reddy on Wednesday.
The Telugu Desam Legislature Party met here this evening and chose Subrahmanyam for the post.