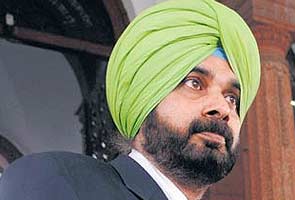 Amritsar:
BJP MP Navjot Singh Sidhu today said he would go on a fast-unto-death from tomorrow to protest against the stalling of disbursement of development funds for his Amritsar constituency.
In a press statement, Mr Sidhu said, "I know what my duties are towards the development of Amritsar being an elected Member of Parliament. I will do my duty honestly without criticising anybody and without speaking against anybody... I will sit on a fast-unto-death from tomorrow (Saturday)."
"Party (BJP) president Rajnath Singh has directed me to remain silent. But my duty towards Amritsar would never be stopped," Mr Sidhu, who returned from Delhi today, said.
The three-time MP said, "Everybody knows why I am going to take such an extreme step and how my five or six major developmental projects including Solid Waste Management, City Bus Service, Multiple Sport Complex, expansion of Bhandari Bridge were scuttled."
"The Amritsar Improvement Trust had Rs 160 crore funds, but no development work was carried in the past six years.
Instead Rs 60 crore were diverted to others districts of Punjab with the aim to scuttle my projects," he said.
"I was unable to convince the authority for development of Amritsar," he said, adding "the decision to go on fast is my own."
Mr Sidhu said he would not point fingers at anyone for the delay in carrying out development projects and added he had requested Punjab Chief Minister Parkash Singh Badal to order a judicial probe to ascertain on whose order Rs 60 crore of Amritsar Improvement Trust was diverted.
Get Breaking news, live coverage, and Latest News from India and around the world on NDTV.com. Catch all the Live TV action on NDTV 24x7 and NDTV India. Like us on Facebook or follow us on Twitter and Instagram for latest news and live news updates.