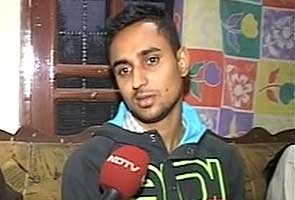 Amritsar:
Murdered Punjab police officer Ravinderpal Singh's son Navpreet is as much gripped by grief as fear. He is scared for his family as it fights a legal battle against former Akali Dal leader Ranjit Singh Rana, who allegedly killed his father.
"We are still scared. We have been told the accused is very dangerous. The government has provided us security, but I am still worried because my mother and sister live here," says Navpreet, who stays in Australia and flew down to Amritsar for his father's funeral.
Assistant Sub-Inspector Ravindepal Singh was cremated in his native village of Rampura in Amritsar district on Friday. His son and daughter performed the last rites.
The officer was shot dead on Wednesday in full public view in Amritsar's Chehertha locality after he confronted Mr Rana for allegedly harassing his 23-year-old daughter. He was first shot in the legs. On way to hospital, Mr Rana allegedly waylaid him and shot in the chest from close range.
Mr Singh, who was 47, was rushed to hospital with heavy bleeding and declared dead. A police station close to the murder spot failed to react in time and come to his aid.
Mr Rana has been sent to five days in police custody. He has been sacked by his party amid growing public outrage. The police have made four arrests in the case so far.
Navpreet, who got engaged a fortnight ago, is happy that his sister is being appointed as a sub-inspector in the state police on special grounds.
But he feels only a quick trial can compensate for his father's loss. "The accused should be given death penalty. That is only help I want from the state government. I want justice," he says.