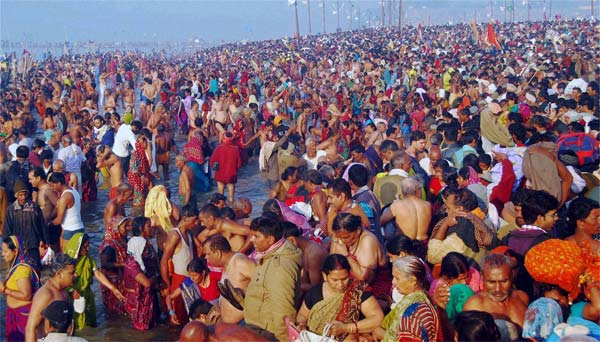 Allahabad:
Over three crore devotees led by ascetics of Hindu sects today took a holy dip at Sangam on 'Mauni Amavasya', considered the most auspicious day of bathing during the 12-yearly Kumbh congregation here.
"As per our estimates, three crore people have taken a holy dip till 3 PM. The influx of visitors has slowed down a bit since then but the turn-out has already exceeded our expectations," Kumbh Mela Officer Mani Prasad Mishra told PTI.
"No untoward incident has been reported from any part of the Kumbh area so far," he said.
The sprawling city of tents, spread across 6,000 acres, may have briefly become the most populous place in the world on account of this unusually high turnout.
A sea of devotees kept surging towards the confluence of the holy rivers Ganga, Yamuna and the mythical Saraswati throughout the day, while the 13 'akharas' took out their processions for the second 'Shahi Snan' during the Maha Kumbh.
Amid chants of 'Har Har Gange', devotees including a fair sprinkling of foreigners, watched awestruck as 'naga sadhus' with their matted hair, ash-smeared naked bodies adorned with garlands of marigold and 'rudraksh' moved in processions with their 'Shri Mahants' and 'Mahamandaleshwars' perched atop decorated chariots, horses and elephants.
In fact, the ritual of bathing started from yesterday afternoon itself when 'Mauni Amavasya' began according to the Hindu almanac and reached its crescendo this morning.
A steady stream of devotees was seen at railway stations and bus stations where people from nearby as well as far-off places took to roads and pathways all of which seemed to be leading towards the Sangam on this day.
Railways ran a number of special trains and bus operators, both private and government, plied hundreds of additional buses for the occasion.
However, according to reports received here, a railway station in the neighbouring district of Pratapgarh was vandalised this morning by people angry over non-availability of a special train for a trip to the holy Sangam.
Tight security arrangements were in place with more than 15,000 security personnel drawn from central paramilitary forces like ITBP, CRPF, BSF and RAF besides the Uttar Police and its Provincial Armed Constabulary and Anti Terrorist Squad keeping a close vigil.
Besides, the Army which has an ordnance depot located close to the Kumbh area, also did its bit by conducting aerial surveys every few minutes.
Army sources said they have offered to temporarily open some of the area under its control, normally out of bounds for general public, if the Kumbh administration finds itself inconvenienced in handling the heavy rush of devotees on the normal routes.
A number of VIPs, including political heavyweights, film stars and business tycoons have visited the Kumbh over the past few weeks.
They included Sriprakash Jaiswal, Rajnath Singh, Subodh Kant Sahay, Mukhtar Abbas Naqvi, the Hinduja brothers, Anil Ambani with his mother Kokilaben, film producer Ekta Kapoor, actors Shilpa Shetty, Emraan Hashmi, Rajpal Yadav and Ashutosh Rana and stand-up comedian Raju Srivastava.
A number of classical musicians like Pandit Jasraj, Hari Prasad Chaurasia and Malini Awasthi also enthralled people by their performances at the Kumbh area.
However, the administration had banned any film promotional activity in the Kumbh area to prevent any unwanted gathering of crowds, which could lead to a stampede.
Although there was no untoward incident reported from anywhere in the sprawling Kumbh area, the camps for lost persons remained busy trying to locate family members of those, particularly women and children, separated from their near and dear ones.
In view of the likelihood of normal life being affected by the unusual rush of visitors from outside and the resulting traffic restrictions, the District Magistrate of Allahabad has ordered closure of all schools up to the Intermediate class till February 16.
Examinees will be allowed to reach their examination centres on foot or, if possible, on two-wheelers.
Besides, the Allahabad High Court has declared a holiday tomorrow.
The first 'Shahi Snan' of the Kumbh took place on 'Makar
Sankranti' (January 14) while the third and last one is scheduled on Basant Panchmi (February 15).