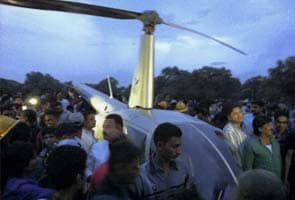 Ahmedabad:
The son of self-styled spiritual guru Asaram Bapu and three others, including a pilot, had a miraculous escape when the helicopter carrying them crash-landed at a graveyard in Gomtipur area of Ahmedabad today.
According to officials, the helicopter developed a technical snag and the pilot's attempt to land it was not entirely successful.
He, however, managed to steer it to the Chartoda graveyard in Gomtipur where no resident was present, thus preventing any casualty.
Narayan Sai, son of Asaram Bapu, escaped unhurt.
The chopper, which had 'Tej Airways' written on it, reportedly belongs to Asaram's ashram.
It was coming from Godhra and was scheduled to land in Ahmedabad at the heliport at the ashram.
Rescue teams from Fire department and three emergency vehicles were rushed to the spot. Mr Sai and the others were taken to the Gomtipur police station.
On August 29 last year, Asaram and four others had a narrow escape when their helicopter crash-landed in Godhra after it developed a technical snag.