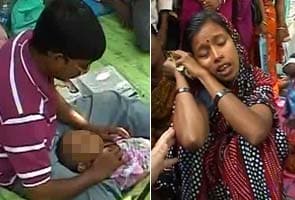 Kolkata:
It was a dark Diwali for several families whose babies were admitted to Kolkata's BC Roy Paediatric Hospital. At least 13 infants have died in the last 48 hours, four of them on Wednesday.
Angry parents blocked a road outside the government-run hospital in North Kolkata on Wednesday, accusing the hospital of negligence. The hospital listed the official cause of death as encephalitis.
"I was requesting the doctors to please come and have a look at my child but they didn't come," recalled a young father who has lost his son. "I thought now my child is surely dying so I started crying. That's when eight nurses came to see my child and started putting pressure on his chest, but they were putting pressure on his dead body."
The state health department has also given a clean chit to the hospital, and said that there is no evidence of medical negligence.
Doctors at the BC Roy Post-Graduate Institute of Paediatric Sciences claim that on an average, the hospital does see five to six deaths a day and that most of the babies who were admitted here were in critical condition. They also acknowledge that the hospital, which provides free care to low-income families, needs more labs and machines for ultra-sound scans and x-rays.
In June, the deaths of 18 babies in 48 hours at the same hospital provoked angry demonstrations, and had led to a visit from Chief Minister. An inquiry conducted on the orders of the government absolved the hospital of medical negligence, and asked for new facilities to be added immediately.
Not much has changed. A Special Newborn Care unit was under construction in June, but has still not been completed. The equipment ordered for this department has arrived but is in storage since the building is still not ready.
A CT scan facility and a blood storage unit have yet to be added.
When asked why the hospital comes across as a repeat offender, medical superintendent DK Pal said, "Many gadgets and equipment have been given to us for proper care but again if the referral number of patients are coming to a greatly high level, and they are in a critically ill state, in spite of our new gadgets and equipment, we fail to revive all of them."