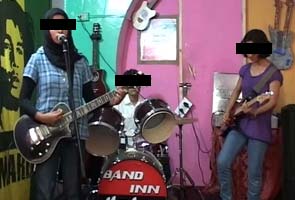 Srinagar:
A spate of online abuses against Kashmir's only girl rock band Pragaash, which apparently forced the members to quit and evoked public outrage, has jolted the police into action. Three people have been arrested from different parts of Kashmir for threatening the girls.
Irshad Ahmad Chara, resident of S D Colony in Batamaloo, was arrested late on Wednesday night, police sources said. Two more arrests were made the same night - Tariq Khan from Bijbehara in south Kashmir and Rameez Shah from Ganderbal in central Kashmir.
Jammu and Kashmir Chief Minister Omar Abdullah, who has been vocal in his support for the band, welcomed the arrests.
Police are tracking down the Internet Protocol addresses of 26 users whose comments, out of the total 900 posts on the band's Facebook page, were found to be abusive, officials said.
A case of criminal intimidation and under section 66A of the Information Technology Act has been registered. Officials said there had been a delay in registering the case as it took time to run past the flood of Facebook comments on the band.
The police are out to ensure that the band members are not harmed. Jammu and Kashmir Director General of Police Ashok Prasad has ordered more patrolling in the areas where two of the three band members live.
A member of Pragaash, meaning light, had on Tuesday announced that the band was quitting because of a decree by Kashmir's grand mufti, who finds singing un-Islamic.
"We respect the Mufti sahib who said it (singing) is 'haram'. We respect the opinion of people of Kashmir as well, so we are quitting," she said, denying that this had anything to do with the online abuses.
The band had been receiving warnings - even rape threats - on the social media ever since it first performed in Srinagar two months ago. The girls decided to stop public performances and focus on producing an album, but the attacks continued.
(With inputs from PTI)