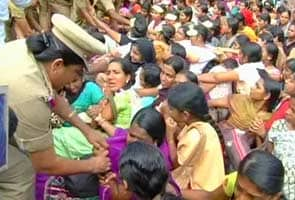 Kochi:
A committee appointed by the Kochi High Court to resolve the stand-off between the hospital authorities and the striking nurses has stated that the nurses do not have the right to organise any flash strikes. It also said that the hospital authorities need to be given a notice 14 days ahead of the planned strike. Around 1000 nurses in Thrissur went on a 80-day strike demanding better work environment, better salaries, and limited work hours. They called off their strike yesterday after the Member of Parliament K Sudhakaran had intervened and assured that a committee would be appointed to look into the problems of the nurses.
"Our strike is for our needs such as nurse-patient ratio, against sexual harassment and also salary," Roshan, one of the strikes nurses, said.
"Most of the nurses are women. Rules say that women employees should have cells against sexual harassment to protect them, but none of the hospitals have that," another nurse, Liji, said.
The Balaraman Committee appointed to study the plight of nurses recommended Rs. 12,900 for a staff nurse with a yearly increment of Rs 250. The government has yet to approve the committee recommendations.
A few nurses have claimed that they don't even get the minimum wages subscribed by the government.
The frequent strikes have paralysed the healthcare systems in certain cities. Doctor HS Adenwalla maintains that the nurses don't have any right to strike, however, he admits that as professionals, the nurses have not been treated well, an issues which should have been attended to long ago.
In this long drawn battle, the patients and the healthcare system have suffered. The hospitals are not able to admit any patients during the strike, Dr Bino Benjamin says. In Thrissur, patients being brought to the casualty ward would be sent back after first aid or referred to hospitals outside the city- sometimes 50-60 kms away.
While the state government is being criticised for its indecisiveness, there are fears that these unresolved agitations might make way for the entry of big corporates into Kerala's health care system, making it much costlier. Activist Medha Patkar, who supports the nurses' cause, said she is afraid that with the rights battle being made into a prestige issue on either sides, the need for smaller charity private hospitals will be overlooked and instead, big corporate hospitals like Apollo, Maxims, etc. will come up.
Kerala's health care model has been appreciated across the world. This is because it provides the best treatment to everyone, regardless of their financial standing. Now, with the backbone of this industry, the nurses, struggling and fighting for their dues, it will become difficult for Kerala to sustain the model. Though the hospital management sees the recent High Court appointed re-conciliatory committee's recommendation as their victory, the issues being faced by nurses need to be addressed.