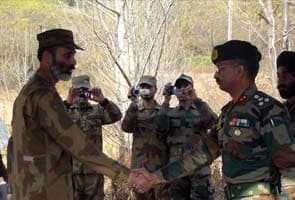 New Delhi:
At a meeting of brigade commanders today, India lodged a strong protest against ceasefire violations by Pakistan along the Line of Control (LoC) and also expressed concern at the barbaric way Pakistani troops treated the bodies of Indian soldiers killed after an ambush last week.
The Indian Army has said that Pakistani troops crossed into Indian territory on January 8 to ambush Indian soldiers, killing two, whose bodies they then mutilated, decapitating one of them. India today warned Pakistan at a 35-minute flag meeting between senior Army officers, that such a "dastardly and cowardly act" was unacceptable and that it was a premeditated attempt to undermine the cease-fire agreement signed between the two countries in 2003. It said that a repetition of such acts would not be tolerated and that it if did, the Indian Army reserves the right to retaliate at a point and time of its choosing.
The flag meeting was held at Chakan-Da-Bagh in the Poonch sector of the Jammu region this afternoon. The Indian Army said at the meeting, India's representative pointed out that the mutilation of the body of dead soldiers was against the tenets of the Geneva Convention and was also in contravention of all established norms of soldierly behaviour. India has reportedly asked Pakistan to educate its troops on soldierly norms, and the ethos and spirit of the ceasefire agreement.
The leader of the Pakistani delegation, the Indian Army said, was also asked to acknowledge responsibility for the attack and mutilation; he reportedly denied the involvement of the Pakistani Army. The Pakistani side reiterated that its troops had not initiated ceasefire violation. Pakistan agreed to a flag meeting four days after India first asked for it.
The Indian Army had sent a hotline message to the Pakistan Army on January 11, amid escalating tension along the LoC, calling for a Brigade Commander-level flag meeting to discuss the brutal killing of the two jawans and increasing incidents of firing and ceasefire violations in the Poonch sector. Pakistan responded yesterday, also on hot-line.
This is second Brigade Commander-level flag meeting held along the LoC in Poonch in the last six months. A flag meeting at this level was held on June 23 last year to discuss the killing of two soldiers in ceasefire violations.