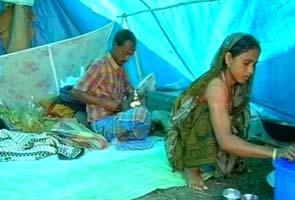 Kokrajhar:
The Assam government claims that only 35,000 of the five lakh people displaced in this summer's violence in the Bodoland districts are left to be rehabilitated. But NDTV has found that thousands have been forced to leave their homes again in the second round of killings this month, a number that the state government says is not reported or recorded.
Mandarpara in Gossaigaon subdivision of Kokrajhar district is dotted with tents made of plastic sheets. Here 386 families with 1,800 people live, displaced twice in the last four months.
While the government claims they are back in their homes, their village of Kurshakati, just five kilometres away, is a ghost town. A CRPF camp is located in the middle of houses burnt down and acres of ripe paddy.
Adjacent to the camp was Churmur Ali's house, where the BA third year student and his family returned on October 23. "We fled in July after our houses were set on fire. Then we were sent back by the government. But we were attacked again, so we are back in the camps," says Mr Ali.
He and his neighbours fled on November 12 after four villagers were attacked and killings were being reported from other areas of the district.
The attacks are systematic. The division between the Bodos and Muslims is only getting sharper. Mr Ali can neither return to his village nor attend his college where Muslim students have been attacked. At the Mandarpara settlement alone, 300 children have been out of school since July.
The contentious issue of land holding is at the heart of the conflict. The Bodo leadership will not allow Muslims to return without examining their land papers. The Muslims say the land record office has manipulated data. So while the son's name finds mention, the father's has been deleted in many cases.
Of the 396 pattadars in Kurshakati, only 180 names have been validated. The rehabilitation package for these people included six bamboo poles and a plastic sheet to construct a shelter, a month's ration and a cheque of Rs 22,700 only.
Meanwhile, acres of rice cultivation are waiting to be harvested, but nobody dares to enter the fields for fear of being attacked. For lakhs of people, this is the harvest that would have kept them going till the next season, but now the rice stands to be damaged in another week if not harvested.
Two of the 10 persons killed since November 10 lost their lives while working in the fields. A couple we met was working in the fields owned by the Koch Rajbonshi tribe, yet their panic was palpable. Across the road, a farmer fled in fear as soon as we turned towards him.
"These are isolated incidents. Some were related to local issues over harvesting and so on. Our concern is to review our police arrangements," says Assam Director General of Police JN Choudhury.
Afzal Haq Sarkar, a Muslim leader and Bodoland Territorial Council (BTC) member, feels resolution between the two communities can be achieved only if the Bodo leadership wants peace.
"Until the Bodo leaders reassure and accept the Muslims, this situation won't change, but they haven't shown any such gesture yet," he says.
If Muslims are not being able to enter their villages in Kokrajhar, the Bodos who escaped the backlash in neighbouring Dhubri district too also languishing in camps. Around 700 of them are at Kokrajhar's Nursing College camp, with little hope of going back soon.
Jayant Narlikar, Deputy Commissioner of Kokrajhar, admits that rehabilitation is an issue, but denies knowledge of people who were sent home but forced to flee again. "The rehabilitation procedure was discussed with BTC. We will sit and start that in the second phase because there are still people in the relief camps," he says.
The law and order situation has been temporarily brought under control but the state government is in complete denial about the humanitarian crisis from the number of internally displaced people adding up every day.