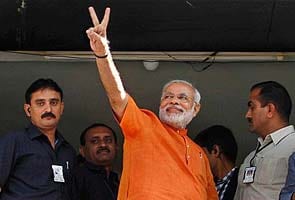 Narendra Modi looks set to get his hat-trick; what is being watched keenly is whether he will be able to match his 2007 tally of 117 seats.
Here are some reactions on the election results in Gujarat:
P Chidambaram, Finance minister:
"The Congress is a winner in Gujarat, we have been able to contain BJP and Modi to under 117 seats."

Ali Anwar, JD(U) MP:
"What is proved by his win...what does that have to do with us? When they discuss the candidates with us, we will share our feedback. We are a secular country...a leader must exhibit secular credentials."

Abhishek Manu Singhvi, Congress Spokesperson:
"Yes, Gujarat has gone Mr Modi's way...but the result does not mean he has gained national acceptability".
Ravishankar Prasad, BJP spokesperson: "
This is third continuous victory of Narendrabhai and the BJP in Gujarat inspite of not only a very strong but also vicious campaign against him."

Balbir Punj, senior BJP leader:
"I am not here to define Mr Modi's role in the BJP. Mr Narendra Modi was always a very important factor and he will have even more say now, even if the Congress continues to demonise him."
Salman Khurshid, External Affairs Minister and senior Congress leader:
"We have lost Gujarat but won Himachal, but it wasn't an easy for Modi. It was close fight. We are in the right direction; we will have go back to drawing board. One election doesn't make him PM candidate."
Rajiv Pratap Rudy, BJP MP:
"We BJP wanted to make a flourishing government, and that is what we are doing. Narendra Modi is winning again because people of Gujarat believe in him."
M G Vaidya, Senior RSS ideologue:
BJP has great Prime Ministerial candidates, including Narendra Modi. People have given him a third chance.
Nitin Gadkari, BJP President:
"Gujarat voted for politics of development. We have won for the fifth time in Gujarat and third time under the leadership of Narendra Modi. People of Gujarat have voted in favor of BJP. Congress party tried to dissolve the poison of communalism in the hearts of Gujarat people but they did not accept this and rejected Gujarat. Gujarat will continue to develop in Narendra Modi's leadership."

LK Advani, Senior BJP leader:
"Results are satisfying. I wish we did better in Himachal Pradesh."