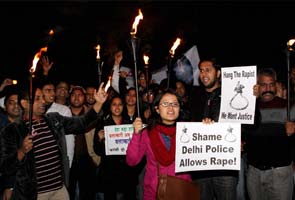 New Delhi:
At night, there were a few thousand people on a chilly winter night holding candles at India Gate.
Some carried placards that had slogans like "stop this shame"; others chanted slogans demanding better safety for women, the agenda declared by an outraged country after a young medical student, 'Amanat' (NOT her real name), was raped by six men in a Delhi bus last Sunday.
The fragile calm at night followed a day of fierce hostility and clashes between the protestors and the police. On Sunday, four metro stations near India Gate - Patel Chowk, Udyog Bhavan, Race Course and Central Secretariat - will remain closed from 6 am till further orders as a form of crowd-control.
The protestors gathered at India Gate and near Rashtrapati Bhawan by 10 am on Saturday. As the numbers grew, so did the resentment that nobody from the government chose to address them.
A little before 11 am, a group of unruly protesters began running towards Raisina Hill, where several ministries and the Prime Minister's Office are located. When they pushed aside the barricades there, the police used tear-gas and water cannons.
In an attempt to check the tension, a small group of people was invited at noon into Rashtrapati Bhawan. They were met not by President Pranab Mukherjee but his aide.
Where is the government, asked irate demonstrators.
"It was a complete case of insensitivity," said former Attorney General Soli Sorabjee to NDTV, criticising the Prime Minister for failing to meet with the demonstrators.
At 3 pm and then again at about 6 pm, there were more clashes with the police. Both sides threw stones.
Senior opposition leader LK Advani phoned the Home Minister, urging him to instruct the police to show restraint.
Home Minister Sushil Kumar Shinde met in the evening with a few demonstrators. At a press conference later, he said that he reassured them - and wants the country to know - that the government shares the outrage and anguish that has cascaded into the streets since last Sunday's inhumane attack on the student.
He said the government plans to ask for changes to criminal laws to introduce death penalty for "rarest of the rare" rape cases. He also said that the government will ask for a fast-track trial for the medical student's case.
The six men accused of her rape have been arrested. Five policemen have been suspended for dereliction of duty while she was being assaulted - the bus she was on passed through several police checkpoints without being stopped though it had tinted windows, illegal in Delhi.