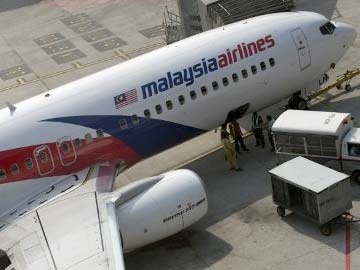 Ho Chi Minh City:
Vietnamese searchers on Sunday spotted possible aircraft debris after combing the sea for nearly 48 hours in search of a Malaysian passenger jet that vanished with 239 people aboard, officials said.
The discovery, which could confirm the worst fears of anguished relatives, came after Malaysia's government launched a terror probe into the Boeing 777's disappearance, investigating suspect passengers who boarded with stolen passports.
"We received information from a Vietnamese plane saying that they found two broken objects, which seem like those of an aircraft, located about 50 miles (80 kilometres) to the south-west of Tho Chu Island," said an official from Vietnam's National Committee for Search and Rescue, who did not want to be named.
The island is part of a small archipelago off the south-western tip of Vietnam, and lies northeast of Malaysia's capital Kuala Lumpur, from where Malaysia Airlines (MAS) flight MH370 left early Saturday bound for Beijing.
"As it is night they cannot fish them out for proper identification. They have located the position of the areas and flown back to land," the Vietnamese official added.
Planes and boats would be sent back to the area Monday to investigate further, he said.
Two large oil slicks which authorities suspect were caused by jet fuel were detected late Saturday further south of the island chain, and observed later by an AFP journalist aboard a Vietnamese spotter plane.
Both MAS and Malaysia's civil aviation authority, however, said they had no new information to offer after the apparent Vietnamese discovery.
Malaysian officials said earlier that MH370 may have inexplicably turned back towards Kuala Lumpur as they tried to shed light on the mystery of what may have caused a reliable aircraft model with no known safety issues to slip off the radar.
The plane, captained by a veteran MAS pilot, had relayed no indications of distress, and weather at the time was said to be stable.
- 'Puzzled' -
The United States sent the FBI to investigate, but US officials stressed there was no evidence of terrorism yet.
"There is a distinct possibility the airplane did a turn-back, deviating from the course," said Malaysia's air force chief, General Rodzali Daud, citing radar data.
But Malaysia Airlines (MAS) chief executive Ahmad Jauhari Yahya said the Boeing 777's systems would have set off alarm bells.
"When there is an air turn-back the pilot would be unable to proceed as planned," he said, adding authorities were "quite puzzled" over the situation.
A total of 40 ships and 34 aircraft from an array of Southeast Asian countries, China and the US have been involved in the search, with two Australian surveillance aircraft due to join in.
After it emerged that two people boarded the flight with stolen European passports, Malaysia's transport minister Hishammuddin Hussein said he was looking at four suspect passengers in all.
He said authorities were examining CCTV footage of the two with fake passports.
"We have managed to get visuals of them," he said, adding that Malaysia was liaising with other countries' intelligence agencies on the findings. He gave no more details.
Hishammuddin also confirmed the US Federal Bureau of Investigation (FBI) was dispatching personnel to Malaysia.
"At the same time our own intelligence has been activated, and of course, the counter-terrorism units... from all the relevant countries have been informed," he said, refusing to rule out the possibility of a hijack.
Prime Minister Najib Razak was quoted by The Star newspaper saying the government would review and enhance airport security protocols, if needed.
"If necessary, because we still do not know the cause of the incident," he was quoted as saying.
Technical advisers from Boeing and the US Federal Aviation Administration are en route to Asia to help with the probe.
- Frustration -
The flight vanished about an hour after taking off from Kuala Lumpur. A total of 153 Chinese nationals were on board, and relatives camping out at Beijing's main international airport bemoaned the lack of news Sunday.
"The airline company didn't contact me, it was a friend," a middle-aged woman surnamed Nan told reporters, holding back tears. Her brother-in-law was on the flight.
"I can't understand the airline company. They should have contacted the families first thing."
MAS insisted it was doing its best to keep relatives in China informed given the confusion over the plane's fate, and was preparing to fly some of them to Malaysia on Monday to be closer to the search-and-rescue operation.
Two European names -- Christian Kozel, an Austrian, and Luigi Maraldi of Italy -- were listed on the passenger manifest but neither man boarded the plane, officials said. Both had their passports stolen in Thailand over the past two years.
Thai police said Sunday they were investigating a possible passport racket as flight information seen by AFP gave new details about bookings made in Thailand with the two stolen European passports.
The tickets booked in Maraldi and Kozel's names were made on March 6, 2014, and issued in the Thai city of Pattaya, a popular beach resort south of Bangkok.
The e-ticket numbers for their flights are consecutive and both were paid for in Thai baht. Each ticket cost THB 20,215 (US$625).
"Kozel" was booked to travel from Kuala Lumpur to Beijing on MH370, then on to Amsterdam and Frankfurt. "Maraldi" was booked on the same flights until Amsterdam, where he was to continue to Copenhagen.
Interpol confirmed that "at least two passports" recorded in its Stolen and Lost Travel Documents database were used by passengers on board the Malaysian flight.