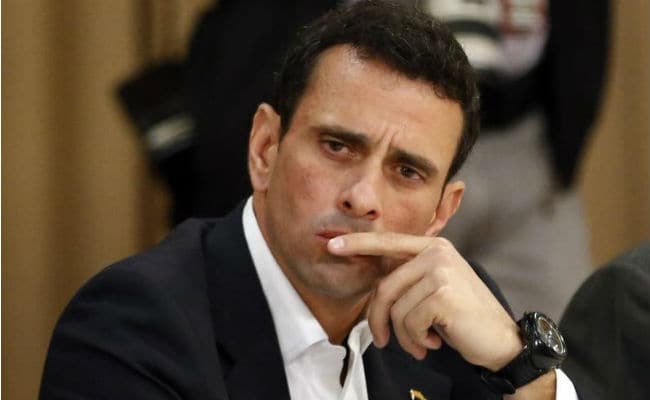 Caracas:
Venezuelan officials targeted by United States sanctions are suing opposition leader Henrique Capriles for labelling them corrupt in the latest knock-on effect of Washington's moves against the OPEC member's rulers, a minister said.
Turning up the pressure on Venezuela, President Barack Obama's government imposed a visa ban and asset freeze on seven officials in March over allegations of repressing political opponents and corruption.
President Nicolas Maduro has furiously denied the accusations and turned the seven into a nationalist 'cause celebrate', even naming one - former intelligence service head Gustavo Gonzalez - as interior minister.
Gonzalez said the seven were taking legal action against Capriles, who is governor of Miranda state, for referring to them as "enchufados," which literally means "plugged in" but is used by Maduro critics to refer those considered corrupt.
"The governor of Miranda will have to explain in a court why he called seven 'officials for dignity' plugged-in and corrupt," the minister said via Twitter.
Gonzalez could not be immediately reached for comment.
Reuters could not verify that the other six were indeed joining the suit, or the timing of the legal action.
Speaking during a visit on Wednesday to Ocumare del Tuy, a town in Miranda, Capriles said he had not received any notification of a legal process against him and again used the same term to describe the minister.
"It's an honour for me that a group of 'enchufados' try to hide their responsibility by attacking me," said Capriles, who narrowly lost the 2013 presidential election to Maduro.
"The people know me."
While U.S. authorities have been increasing the pressure on Venezuela this year - including reported investigations into the second most powerful government figure Diosdado Cabello and other senior officials for alleged drug-trafficking - so the state has been turning up the heat on its domestic opponents.
In another legal proceeding against opposition figures and media, Cabello is suing 22 people at three media outlets which republished a story in a Spanish newspaper containing accusations he helped run a drug cartel.
A court has prohibited them all from leaving Venezuela.
Hardline opposition leader Leopoldo Lopez, who championed 2014 street protests that led to violence killing 43 people, remains in jail. And another government foe, Caracas mayor Antonio Ledezma, is under house arrest accused of subversion.
Obama's executive order signalling the sanctions against the seven officials accuses the minister Gonzalez of responsibility for violence and rights abuses during the 2014 protests.
© Thomson Reuters 2015