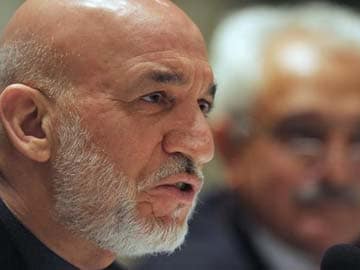 Washington:
The US has asked Afghanistan President Hamid Karzai to quickly sign the Bilateral Security Agreement (BSA), saying the delay in signing will affect its allies' ability to plan a potential follow-on mission.
"The delay in signing negatively affects confidence in the region as well as our and our allies' ability to plan a potential follow-on mission. And with the drawdown already ongoing, decisions have to be made soon about issues such as base closures and force levels," White House Press Secretary Jay Carney told reporters.
"So without a BSA, near-term decisions about those issues would have to be made accordingly. And as you know, absent a BSA we can't maintain any kind of troop presence in Afghanistan beyond 2014," he asserted.
Though there is no deadline to sign the BSA, Carney said this has to be a matter of weeks and not months.
"It's a simple equation when you're talking about the kind of planning that has to go into structuring a troop presence and a mission for post-2014 in Afghanistan, a mission that would be focused on two things: counter-terrorism, and aiding and supporting and training Afghan troops," he said.
"As all these things are for the Department of Defence, that's a complicated piece of business that requires a serious amount of planning, rather, for US forces and with our NATO partners. So this is not something that can drag on for very long," he said.
"Our position continues to be that if we cannot conclude a Bilateral Security Agreement promptly with the Afghan government, then we will initiate planning for a post-2014 future in which there would be no US and no NATO troop presence in Afghanistan," Carney said.
"That's not the future we're seeking, and we do not believe that it is in Afghanistan's interests to pursue that future either," he said.
State Department Spokesperson Jen Psaki said the US recognises that civilian needs in Afghanistan will not end with the end of the combat mission this year.
"We continue to believe that sustained and significant support for Afghanistan's government and its people are critical to maintaining the gains of the past decade," she said.
"There are a range of different processes that are happening at one time, and as I mentioned, we'll finalize the bilateral assistance totals as the fiscal year proceeds," Psaki added.
Get Breaking news, live coverage, and Latest News from India and around the world on NDTV.com. Catch all the Live TV action on NDTV 24x7 and NDTV India. Like us on Facebook or follow us on Twitter and Instagram for latest news and live news updates.