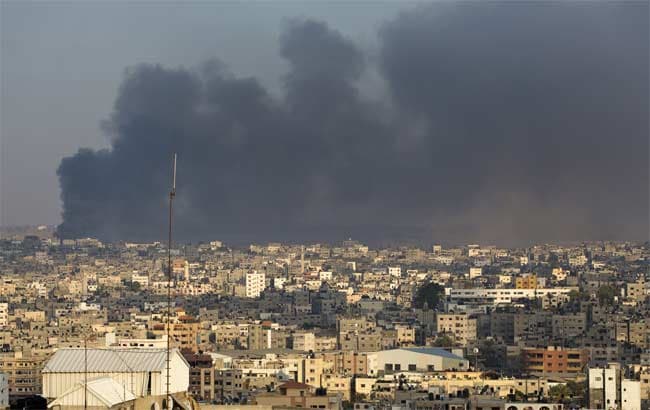 India, along with BRICS countries today, voted in support of a United Nations Human Rights Council resolution to launch a probe into Israel's offensive on Gaza.
(
India Votes in Support of UN Resolution on Gaza
)


Here is the full text of the resolution:
In a resolution (A/HRC/S-21/L.1) on ensuring respect for international law in the Occupied Palestinian Territory, including East Jerusalem, adopted by a vote of 29 States in favour, 1 against and 17 abstentions, the Council strongly condemns the failure of Israel, the occupying Power, to end its prolonged occupation of the Occupied Palestinian Territory, including East Jerusalem; and condemns in the strongest terms the widespread, systematic and gross violations of international human rights and fundamental freedoms arising from the Israeli military operations carried out in the Occupied Palestinian Territory since 13 June 2014 that may amount to international crimes, directly resulting in the killing of more than 650 Palestinians, most of them civilians and more than 170 of whom are children, the injury of more than 4,000 people and the wanton destruction of homes, vital infrastructure and public properties.
The Council condemns all violence against civilians wherever it occurs, including the killing of two Israeli civilians as a result of rocket fire; calls for an immediate cessation of Israeli military assaults throughout the Occupied Palestinian Territory, including East Jerusalem, and an end to attacks against all civilians, including Israeli civilians; demands that Israel, the occupying Power, immediately and fully end its illegal closure of the occupied Gaza Strip; calls upon the international community to provide urgently needed humanitarian assistance and services to the Palestinian people in the Gaza Strip; and expresses deep concern at the condition of Palestinian prisoners and detainees in Israeli jails and detention centres.
The Council also recommends that the Government of Switzerland, in its capacity as depositary of the Fourth Geneva Convention, promptly reconvene the conference of High Contracting Parties to the Convention; and decides to urgently dispatch an independent, international commission of inquiry to investigate all violations of international humanitarian law and international human rights law in the Occupied Palestinian Territory, including East Jerusalem, particularly in the occupied Gaza Strip, in the context of the military operations conducted since 13 June 2014, and to report to the Council at its twenty-eighth session.
The result of the vote was as follows:
In favour (29): Algeria, Argentina, Brazil, Chile, China, Congo, Costa Rica, Cote d'Ivoire, Cuba, Ethiopia, India, Indonesia, Kazakhstan, Kenya, Kuwait, Maldives, Mexico, Morocco, Namibia, Pakistan, Peru, Philippines, Russian Federation, Saudi Arabia, Sierra Leone, South Africa, United Arab Emirates, Venezuela, and Viet Nam.
Against (1): United States of America.
Abstentions (17): Austria, Benin, Botswana, Burkina Faso, Czech Republic, Estonia, France, Gabon, Germany, Ireland, Italy, Japan, Montenegro, Republic of Korea, Romania, The former Yugoslav Republic of Macedonia, and United Kingdom.