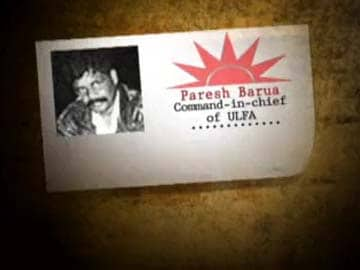 Dhaka:
Paresh Barua, leader of the anti-talk faction of the ULFA, is among the 14 people awarded the death sentence by a Bangladesh court today in connection with a 2004 arms smuggling case.
A special court in Chittagong handed the death sentence to Mr Barua in absentia. 13 others, including Jamaat chief and the then industries minister Motiur Rahman Nizami and the then state minister for home Lutfozzaman Babar, have been sentenced to death for smuggling in 10 truckloads of firearms in 2004, the Daily Star reported.
A huge cache of arms was recovered April 2, 2004, at the jetty of the Chittagong Urea Fertiliser Ltd (CUFL) near the Karnaphuli river while being loaded on 10 trucks for delivery to the Indian separatist outfit ULFA. These included 4,930 sophisticated firearms of different types, 840 rocket launchers, 300 rockets, 27,020 grenades, 2,000 grenade-launching tubes, 6,392 magazines and 11.41 million bullets.
It was the largest ever seizure of an arms consignment in Bangladesh.
Two charge-sheets in connection with the case were submitted - one in the arms case after two months and another in the smuggling case after four months. Paresh Barua was among those charged in both the cases. While Mr Barua and former secretary of the industries ministry Nurul Amin have been absconding ever since the recovery of the arms, the other nine are in jail.