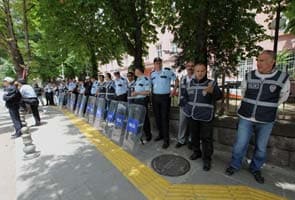 Ankara:
Turkish riot police fired tear gas and halted a march by some 100 students Saturday protesting against the clearance of trees on an Ankara university campus to make way for a controversial road development.
According to the left-wing student group, Genc-Der, which organised the demonstration, 26 people were arrested as they tried to march to the campus of the Middle East Technical University from Ankara city centre.
The protesters were attempting to plant trees in the garden of a public building, a Genc-Der representative told AFP, adding that police prevented them from doing so.
For several weeks there have been sporadic protests in Ankara and other Turkish cities against the plan to build a road through the campus in a bid to alleviate traffic congestion in the Turkish capital.
Turkish Prime Minister Recep Tayyip Erdogan, whose rule was hit by an unprecedented wave of protests during the summer over an urban development plan in Istanbul, last week denounced those who opposed the project in Ankara as "modern bandits".
According to estimates the protests in the summer saw some 2.5 million people take to the streets over a three-week period to demand the resignation of Erdogan, seen by many as an authoritarian leader trying to "Islamise" Turkey. The clashes left six people dead.