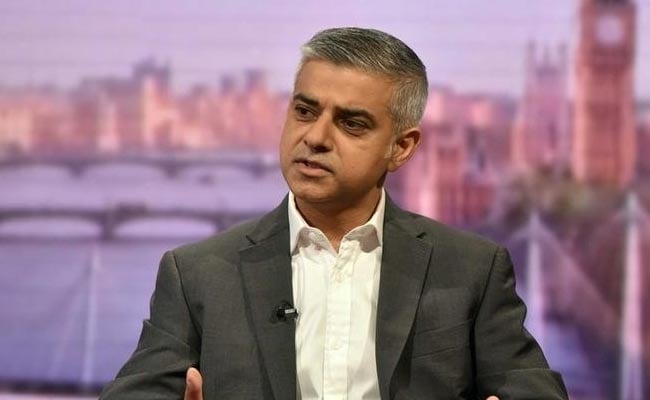 London Mayor Sadiq Khan, the first Muslim to lead the United Kingdom's most populous city, is used to political opponents taking potshots at his faith.
But recently, as his city has dealt with a wave of terrorist attacks, he's also had to contend with a different kind of onslaught: the full fire hose of President Donald Trump's Twitter feed.
So how does it feel to be trolled by the most powerful man in the world?
His answer, according to the Associated Press: "I don't know how to tell you this, but I really don't care . . . I really couldn't be bothered about what Donald Trump tweets."
Here's the history of their very public conflict.
May 9, 2016 - Khan takes office.
When Khan took office, it was clear that he differed significantly from Trump, then a presidential candidate.
He was a Muslim and the first ethnic minority to be mayor in London, and he had beaten back Conservative Party efforts to connect him to alleged Muslim extremists. In the United States, Trump was floating the idea of a travel ban against Muslims.
Khan told Time magazine that if Trump won the U.S. presidential election, "I'll be stopped from going there by virtue of my faith."
He also said Trump's stances on the issues meant the candidate was destined to fail.
"Conservative tacticians thought those sort of tactics would win London, and they were wrong," he said. "I'm confident that Donald Trump's approach to politics won't win in America."
Trump responded by calling Khan "rude" and "ignorant" on "Good Morning Britain."
"He doesn't know me, never met me, doesn't know what I'm all about," he said. "I think they're very rude statements, and, frankly, tell him I will remember those statements."
Jan. 20 - Trump is inaugurated.
Although those politics did win in America, Trump remained unpopular across the pond.
Brits engaged in a debate about whether Prime Minister Theresa May should rescind the offer to have Trump come for an official state dinner.
Khan is among those who have asked the government to reconsider the invitation, describing the state visit as "inappropriate" given the president's travel ban for passengers from several Muslim-majority nations.
"I love America, I love Americans, and I believe the special relationship is a good one and one that's here to stay," he said on ITV. "I think this ban on people from seven Muslim-majority countries, ending the refugee program is cruel, and it's shameful. In those circumstances, we shouldn't be rolling out the red carpet."
March 22 - Trump Jr. goes on the offensive
Four people were killed - including a police officer - and another 40 were injured when a terrorist plowed a vehicle through a landmark bridge, then got out of his car and started stabbing people.
Hours after the attack, Donald Trump Jr. tweeted a story from September in which Khan talks about Londoners and terrorism. The mayor said large cities such as London are terrorist targets and that Brits should be vigilant. He also said the terrorists "would not win."
But Trump Jr. gave the mayor's statement a defeatist twinge, implying that Khan thought terrorist attacks were just part and parcel of living in a big city:
"You have to be kidding me?!: Terror attacks are part of living in big city, says London Mayor Sadiq Khan" https://t.co/uSm2pwRTjO
- Donald Trump Jr. (@DonaldJTrumpJr) March 22, 2017
June, 3 - Another London attack, and the feud intensifies
Khan had a very public presence after a terrorist attack on London Bridge that killed seven and injured dozens.
"There can be no justification for the acts of these terrorists, and I am quite clear that we will never let them win, nor will we allow them to cower our city or Londoners," the mayor said in the interview.
He also gave pragmatic advice, telling Londoners they "would see an increased police presence today and over the course of the next few days. There's no reason to be alarmed."
Trump took the last four words of that message and turned it into an incredulous tweet.
"At least 7 dead and 48 wounded in terror attack and Mayor of London says there is 'no reason to be alarmed!' "
- Donald J. Trump (@realDonaldTrump) June 4, 2017
Khan's spokesman dismissed the U.S. president's comments, according to BuzzFeed News:
"The mayor is busy working with the police, emergency services and the government to coordinate the response to this horrific and cowardly terrorist attack and provide leadership and reassurance to Londoners and visitors to our city.
"He has more important things to do than respond to Donald Trump's ill-informed tweet that deliberately takes out of context his remarks urging Londoners not to be alarmed when they saw more police - including armed officers - on the streets."
But Trump lobbed another criticism across the Atlantic.
"Pathetic excuse by London Mayor Sadiq Khan who had to think fast on his 'no reason to be alarmed' statement. MSM is working hard to sell it!"
- Donald J. Trump (@realDonaldTrump) June 5, 2017
So Khan told the Independent that Trump wasn't helping the situation and was instead "trying to divide communities."
"I just haven't got time to respond to tweets from Donald Trump," he said. "Honestly I've got better and more important things to focus on."
Speaking to Channel 4 News, Khan said Trump had been wrong about "many things" and that the government should cancel his state visit to the United Kingdom.
"I don't think we should roll out the red carpet to the president of the USA in the circumstances where his policies go against everything we stand for," he said.
(This story has not been edited by NDTV staff and is auto-generated from a syndicated feed.)