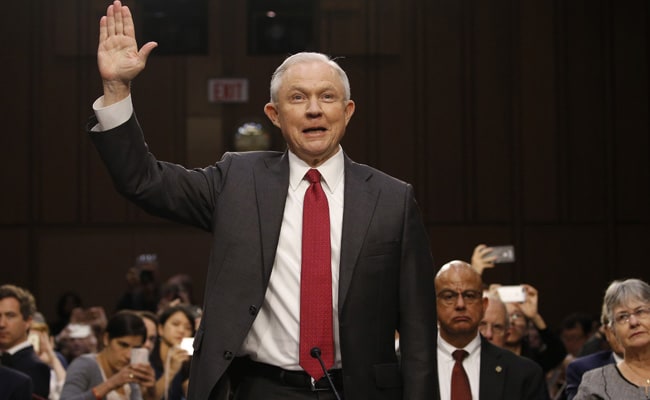 Washington, United States:
US Attorney General Jeff Sessions blasted a Hawaii federal court Friday for weakening the Trump administration's travel ban on six mainly Muslim countries, pledging to again take the case to the Supreme Court.
Sessions said Federal Judge Derrick Watson was undermining national security and improperly micromanaging presidential powers when he ruled to expand the definition of "close family relationships" which determines which people with family in the United States can be excepted from the 90-day-ban.
Watson said Thursday the government's definition of "close family" was too narrow. He said "common sense", as well as accepted US practice, means that grandparents, grandchildren, aunts, uncles, nieces, nephews and cousins should be included for exceptions.
But Sessions said the Hawaii court was overstepping its powers.
"By this decision, the district court has improperly substituted its policy preferences for the national security judgments of the executive branch in a time of grave threats, defying both the lawful prerogatives of the executive branch and the directive of the Supreme Court," Sessions said in a statement.
"The Supreme Court has had to correct this lower court once, and we will now reluctantly return directly to the Supreme Court to again vindicate the rule of law and the executive branch's duty to protect the nation."
After a five month legal battle over the original travel ban, on June 26 the Supreme Court partially backed the government's appeal over several federal courts and allowed Trump to proceed with it.
The government then implemented the ban, limiting exceptions to parents, spouses, children, sons- and daughters-in-law, siblings and step- and half-siblings.
(This story has not been edited by NDTV staff and is auto-generated from a syndicated feed.)