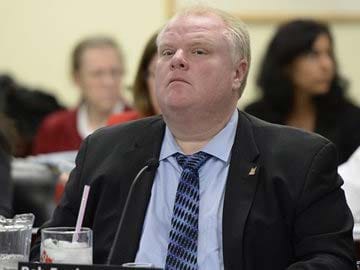 Vancouver, British Columbia:
It seems that Toronto Mayor Rob Ford can't cross the street these days without getting into trouble.
The mayor's spokesman, Amin Massoudi, confirmed Saturday that Ford received a jaywalking ticket on Friday night.
Ford was in a suburb of Vancouver, British Columbia, where he's attending the funeral of a friend's mother.
Toronto's embattled mayor last year made international headlines when he admitted to having smoked crack cocaine while in a drunken stupor.
He's drawn attention in recent months for erratic behavior, but he has resisted pressure to step down and plans to run for reelection late this year.
The Toronto Sun quoted Ford as saying he was shocked officers gave him a jaywalking ticket and that "they went out of their way to do this."
The Royal Canadian Mounted Police refused to comment on the reasons Ford received the ticket.
"The RCMP does not routinely disclose or publicly comment on matters that do not involve criminal code or other serious offences including violation tickets. This policy is applied for all individuals regardless of who they are," RCMP Sgt. Rob Vermeulen said in an email.
Council members in the municipality where Ford was ticketed, Coquitlam, dismissed any suggestion that police singled Ford out.
"I would say it's just laziness on his part," said Coquitlam Councillor Brent Asmundsen. "He keeps making the moves, no matter what he does."