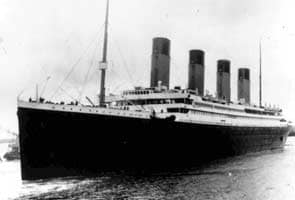 London:
The captain of the doomed liner Titanic which sank in the Atlantic after colliding with an iceberg in 1912 is believed to have originally failed his navigation test, it has emerged.
Edward John Smith, who famously went down with the ship, was eventually given the all clear and he received his Masters Certificate in February 1888, the Telegraph reported.
He is among the well-known seamen to appear in The Great Britain, Masters and Mates Certificates 1850-1927, which were published on the family history website Ancestry.co.uk.
"It is believed that Captain Smith, who was eventually the man in charge of the Titanic when it sank, failed his exams the first time round because he did not have sufficient navigating skills," actor Tony Robinson, of TV's Time Team, said while launching the newly accessible records in London.
Captain Smith was born in 1850 and worked at a forge before joining the White Star Line in 1880 as the Fourth Officer of the SS Celtic, before becoming Captain of the Republic in 1887.
Edward John Smith's certificate was finally issued from the office of the Registrar General of Shipping and Seamen in 1888.
Despite his early difficulties, Smith became known as the 'millionaires' Captain' as his reputation for reliability was such that the wealthy would sail only with him.
He also commanded troop ships during the Boer War.
He went down with the Titanic on April 15, 1912 and his body was never recovered.
Titanic sank in the North Atlantic Ocean after colliding with an iceberg during her maiden voyage from Southampton, UK to New York City, US.