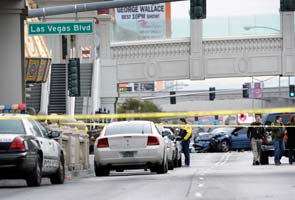 Los Angeles:
At least three people were killed and three others injured in a "rolling shootout" and multiple car crash on the renowned Las Vegas strip early Thursday, city police said.
Two speeding cars, including a Maserati, were involved in a shootout in the neon-lit casino and hotel zone around Las Vegas Boulevard near Flamingo Road, Metro Las Vegas Police Sergeant John Sheahan told local broadcast news.
"Before 4:30am this morning there was apparently a rolling gun-battle on the strip," Sheahan told the local ABC and CBS TV news affiliates.
The Maserati driver, who was struck by gunfire, lost control of the vehicle and struck several cars, including a taxi that burst into flames. The Maserati driver and two people aboard the taxi were killed.
The other vehicle fled the scene and police will investigate surveillance footage to identify it, Sheahan said. Local television news citing police sources said officers were hunting for a black Range Rover.
The passenger aboard the Maserati and at least two other people were injured and take to hospital. Three other vehicles were struck and at least two more people were at the hospital being treated for other injuries, Sheahan said.
Police do not yet know the identity nor motive of the shooters. "This is still very, very early in this investigation," Sheahan said.